Beginner
Mark as New

Bookmark

Subscribe

Mute

Email to a Friend
Cisco packet tracer diagram of University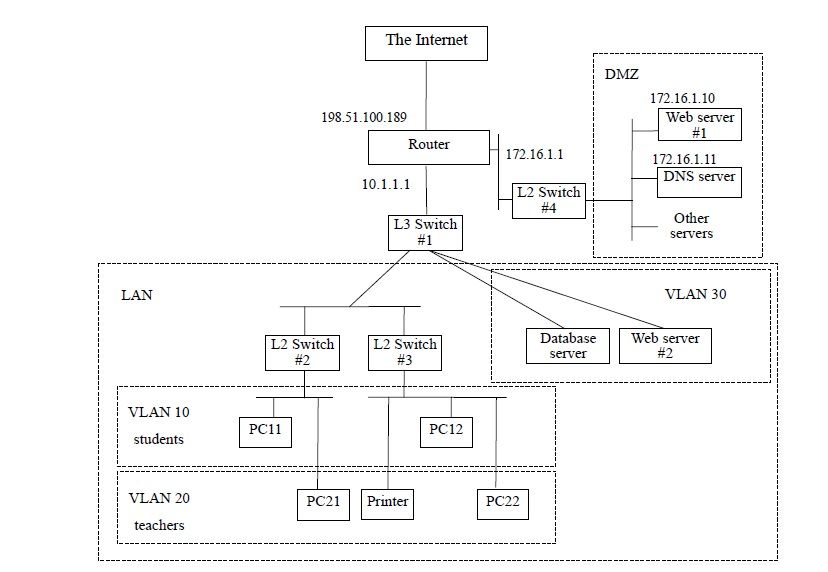 Hello experts,
I'm new to networking and trying to build above network.
It has DMZ and internal LAN is separated with from that.
LAN has three VLANs called VLAN 10, VLAN 20 and VLAN 30 and all the switches have VLAN spanning feature.
All of the servers can access the Internet from the DMZ using NAT.
I've attached what I've done so far and I'm unable to connect to DMZ internet from PCs. Also there may be some miss configurations.
Somebody please help me to resolve this.
Beginner
Mark as New

Bookmark

Subscribe

Mute

Email to a Friend
Hi,
Nice setup. Can you provide with some config text? :)
VIP Advocate
Mark as New

Bookmark

Subscribe

Mute

Email to a Friend
1. PCs are missing default gateways of 10.1.1.1.
2. Router drops packets on trunk to l2 switch (named L3 switch 1 but it is actually L2) because of routers does not have sub-interfaces with vlans -at least 3 of sub-interfaces. You must enable Inter-vlan routing router-on-a-stick if u have 3 various vlans on switch.
3. usually normal setup is same subnet per vlan. it seems that u have 1 subnet but on various vlans. it may work but still u need inter-vlan routing.
Regards, ML
**Please Rate All Helpful Responses **
VIP Advocate
Mark as New

Bookmark

Subscribe

Mute

Email to a Friend

Servers in red zone have also missing default gateway 172.16.1.1