Highlighted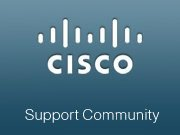 Community Manager
Mark as New

Bookmark

Subscribe

Mute

Email to a Friend
VPN for a Thin Client Software Package
(Note: This message was posted as part of the "Ask the Expert" Event on Hardware Platforms for VPN's that took place September 18-29. Feel free to respond to or form discussions around this question)
Posted by galfonzo - PRESIDENT, RESOURCEWARE, INC.
Sep 27, 2000, 9:30am Pacific (15.)
We are trying to implement a VPN for a thin client software package. The software requires a unique IP address for each session established. How do we get a remote office to establish a VPN connection with unique IP addresses using Cisco hardware. On the same note, another software package I am working with "does not support VPN!" Both of these software companies are still working in the frame relay mind set. How do we work around this.
Thanks,
The rookie.
Explorer
Mark as New

Bookmark

Subscribe

Mute

Email to a Friend
Re: VPN for a Thin Client Software Package
I'd like to help you out here, but I'll need a little more information.
#1 Do you need the router to assign the workstations an IP address to boot (DHCP) or something different?
#2 What hardware and software are you working with?
#3 Have you talked with the software vendor yet to see if they know of a work around?