Options
Mark as New

Bookmark

Subscribe

Mute

Email to a Friend
‎06-28-2011 04:45 AM - edited ‎03-01-2019 02:27 PM
Well last week saw the small cell community divided (by the English Channel; with the Femto World Summit meeting in London and the Wireless Broadband Alliance in Paris) but united in the use of small cells for offloading conventional macro RAN infrastructure. With demand for mobile Internet traffic continuing to accelerate, there seems increasing acceptance that simply deploying more macro/micro sites will not deliver the supply to meet traffic demand expectations.
Several operators have attempted to quantify how much "Bring Your Own" (BYO) WiFi is already being used to offload indoor traffic, with some estimates above 50%. Then there is the extreme capacity situations of Stadium WiFi deployments. Here is great video of how WiFi is being used to enhance the fan experience, http://www.youtube.com/watch?v=ys0iCTauy3A&NR=1. This re-enforces an interesting comment made at last week's femto summit, whereby facilities owners are increasingly willing to pay for managed WiFi installations as they are seen as enabling a better customer experience, but those same facilities owners are wanting to charge for operators wanting to provide indoor cellular coverage!
At last week's Femto World Summit, we were asked specifically to talk about "convergence" between WiFi and Femto, http://www.ateshow.com/agile_assets/235/1200_Cisco_Femto_Forum_rev1.pdf. We described our vision of a converged architecture which is able to support the integration of licensed and un-licensed small cells for offloading conventional macro RAN infrastructure.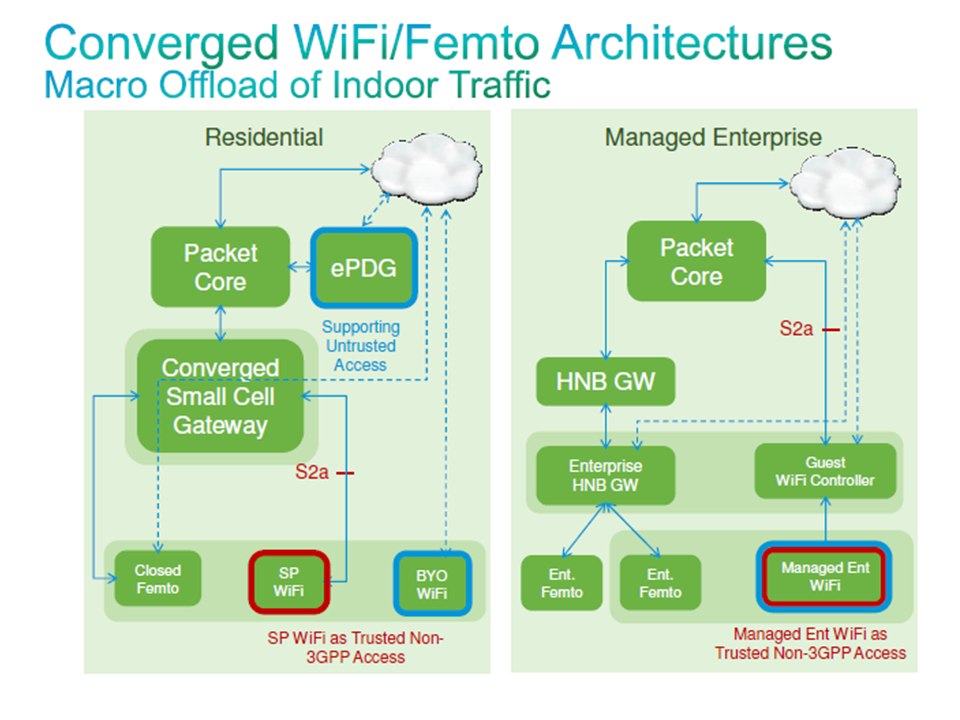 Finally, we recently worked with ABI Research to analyse the End-to-End Networks Costs Comparisons for Femtocell, WiFi and Macro RAN and the whitepaper is available here http://www.abiresearch.com/news/whitepaperDL.jsp?id=52 (email registration required). ABI's Aditya Kaul summarizes well when he says "The use of small cells, including femtocells and carrier Wi-Fi solutions, directly reduces the need for busy hour capacity in the macro network, and as a result they directly reduce the carrier's CapEx and OpEx requirements for that network."
We'd like to hear more of your thoughts and comments regarding small cell deployments. Please leave your feedback below.