Beginner
Mark as New

Bookmark

Subscribe

Mute

Email to a Friend
Need some guidance in our wireless setup.
Please refer to the diagram.

Previously, we have setup our wifi wherein it only uses single signal (ssid). User management and connection to that wifi is being managed by an NPS (Microsoft Radius), wherein user is authenticated against Active Directory Users and Computer database or records.
There are various related groups in our wifi setup - Internal (Vlan10), Corporate(Vlan10), Personal(Vlan20), Guest(Vlan20).
After successful authentication (both user and device), connection will land on their corresponding vlan. where a policy is being applied somewhere in the network. These backend authentication and policy works just fine.
The questions are; how will these whole setup affect the Access Point as well as the Controller considering the first implementation wherein we're looking only to use single SSID while the other consideration is using multiple SSID; about 3 or 4 SSID?? Multiple SSID vs Single SSID. What's the most optimized deployment?
Other deployment options are welcome -- as long as it wouldn't add cost :)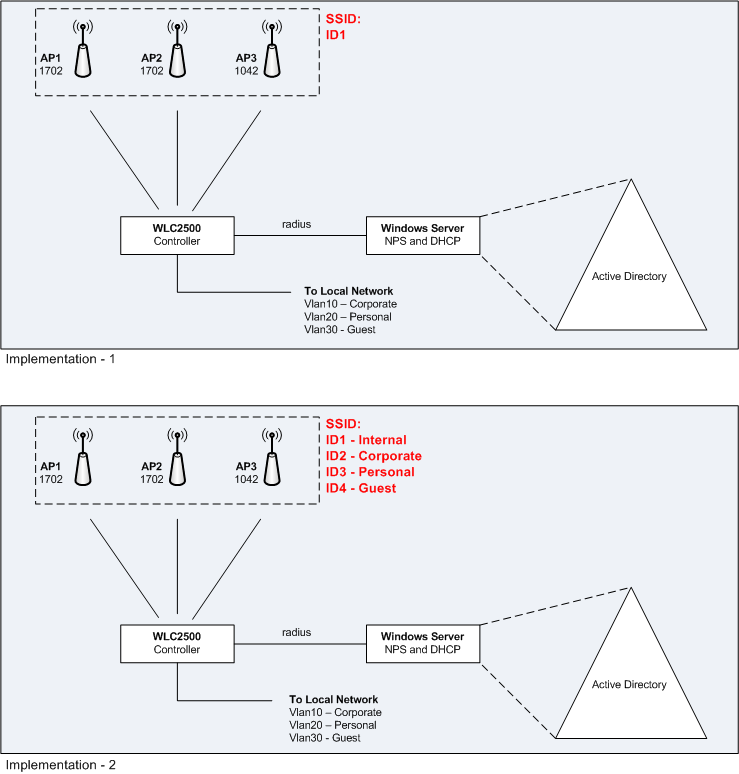 2 ACCEPTED SOLUTIONS
Rising star
Mark as New

Bookmark

Subscribe

Mute

Email to a Friend
A single SSID deployment like you have would generally be recommended because it avoids RF congestion. Andrew VonNagy has a good article on why this is important:
http://www.revolutionwifi.net/revolutionwifi/p/ssid-overhead-calculator.html
Is there a reason why you/your company might be looking to go multiple SSID? If you have the backend configured to drop the clients on the appropriate VLAN then that sounds pretty well setup already.
Ric
-----------------------------
Please rate helpful / correct posts
Cisco Employee
Mark as New

Bookmark

Subscribe

Mute

Email to a Friend
Cisco recommends to limit the number of service set identifiers (SSIDs) configured at the controller. You can configure 16 simultaneous SSIDs (per radio on each Access point (AP)), but as each WLAN/SSID needs separate probe responses and beaconing, the RF pollution increases as more SSIDs are added. Furthermore, some smaller wireless stations like PDA, WiFi Phones, and barcode scanners cannot cope with a high number of basic SSID (BSSID) information. This results in lockups, reloads, or association failures. Also the more SSIDs, the more beaconing needed, so less RF time is available for real data transmits. For example, the recommendation is to have 1 to 3 SSIDs for corporate, and 1 SSID for high-density designs.
Please refer to the following link for best practices:
http://www.cisco.com/c/en/us/td/docs/wireless/technology/wlc/82463-wlc-config-best-practice.html
Here is also another discussion on the same topic:
https://supportforums.cisco.com/discussion/10874181/single-ssid-versus-multiple-ssid