Beginner
Mark as New

Bookmark

Subscribe

Mute

Email to a Friend
Tracking down High Channel Utilization
Trying to figure out what is causing high channel utilization on 2.4Ghz channels in our environment.
The thing thats really frying my noodle is that if I use spectrum expert to get a look at a channel (Ch. 1 in this case) on a particular AP, this is what I see:

Ie. Almost nothing. To me that channel looks almost bare. The issue is when I look at the WLC Config Analyzer to see what it thinks of my RF conditions, this is what I see: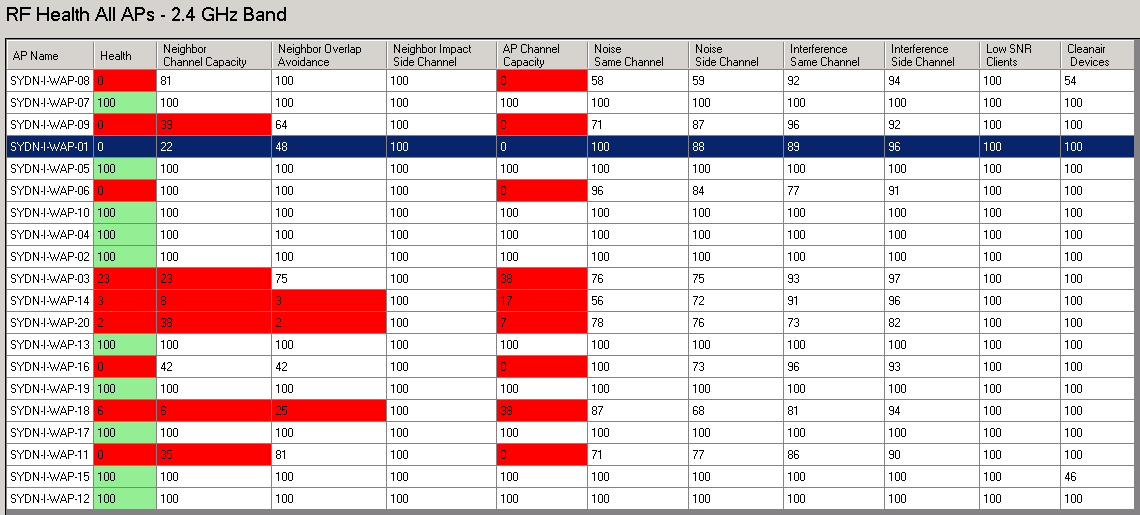 The Highlighted AP is the AP from the Spectrum Expert shot. The APs that are showing as 100% healthy have had their 2.4Ghz radios disabled in an attempt to cut down on Co-Channel Interference.
As you can see, WLCCA is showing that the channel capacity is 0 (ie. totally utilized). I need to do some more checking but anecdotal reports from users at the site support the WLCCA outlook, ie. that my 2.4Ghz network is fragged.
Can someone give me some tips on how I can track down what is causing such apparent high channel utilization, and help me with some idea's on how to mitigate it. I've already shut down 50% of my 2.4Ghz radios to cut down the Co-Channel interference from them, but that doesn't seem to have made much of a difference.
Any help would be much appreciated.