Highlighted
Mark as New

Bookmark

Subscribe

Mute

Email to a Friend
BGP: unequal load balanced design
Hi,
we want to update our current ISP connection. For clarification I attached a jpg file to this text.
The current situtation:
ISP:
- 1 ISP with 2 routers stationed in different cities
- 1 AS: AS100
ours:

- 1 AS: AS200
- 1 Cisco C3550 with EMI connected to the two routers from the ISP above
- all incoming traffic to our main line with 150 Mbit/s, in case this one fails, everything goes to our 30 Mbit/s line
- outgoing traffic is load shared with ~ 150/30 with bgp dmzlink-bw is running nicely (latency difference between 150 Mbit/s and 30 Mbit/s line is only 2ms )
- IPv4 only
------
Coming to the future:
Idea: Let´s make a real redundancy, let´s double the switches on our side
- IPv4 and IPv6 should be run in dual stack
- 2 eBGP switches on my site with 1 iBGP connected switch, doing the load sharing
- 1 additional switch for failsave cases (done with VRRP)
- R5 and R6 are non Cisco devices which will work with OSPFv2 and v3
- Will that setup actually work?
- Do you have some improvemnents?
- The question would be, will this work with Cisco 3560G and EMI or do I need something bigger?
Highlighted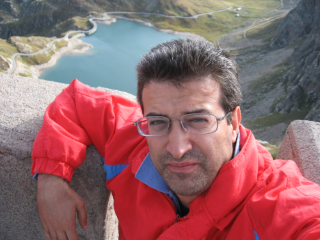 Hall of Fame Expert
Mark as New

Bookmark

Subscribe

Mute

Email to a Friend
Re: BGP: unequal load balanced design
Hello Konrad,
nice to read that BGP unequal load balancing with a single device works for you (there is another thred where we were discussing this)
according to documentation, BGP information about DMZ link bandwidth can be propagated to iBGP peers using extended communities on an address-family basis.
So if on both address-famiy ipv4 unicast and ipv6 unicast the commands for DMZ BW are supported you are fine.
see
>> In the following example, Router B is configured to support multipath load balancing, to distribute Router D and Router E link traffic proportionally to the bandwidth of each link, and to advertise the bandwidth of these links to iBGP neighbors as an extended community:
http://www.cisco.com/en/US/docs/ios/iproute_bgp/configuration/guide/irg_link_band_ps6441_TSD_Products_Configuration_Guide_Chapter.html#wp1054017
so this is the check to perform
Hope to help
Giuseppe
Highlighted
Mark as New

Bookmark

Subscribe

Mute

Email to a Friend
Re: BGP: unequal load balanced design
Hi giuslar,
thanks for your answer. The problem is, I haven´t any 3560G to play with. So the question is, whether those will work with my idea above?
So, what should I buy?
- 4x 3560G EMI
- perhaps 4x 2821
- perhaps 4x ASR 1002-F