Highlighted
Beginner
Mark as New

Bookmark

Subscribe

Mute

Email to a Friend
Can WS-C2960X-48FPD-L do EIGRP Stub Routing with IOS15.2(7)Ex?
Hello community!
Can anyone help me out to confirm whether WS-C2960X-48FPD-L with LAN Base and IOS15.2(7)E2 [this is the Suggested Release] supports EIGRP Stub Routing? Per Cisco Feature Navigator is should but I am unable to neither confirm by hands-on experience nor by any other relevant information source on Cisco.com or public internet.
Our switch has currently older software which does not allow us to issue any "router eigrp" conf t command not even when "ip routing" is enabled. I've used CFN to validate EIGRP Stub Routing feature availability for C2960X LAN Base during design phase. We have obtained the switch with older IOS. Trying to figure out if we just need to upgrade the IOS to suggested release or whether we need to use different switch model - due to time constrains we had to use the aforementioned model for now.
Thank you in advance!
Highlighted

VIP Expert
Mark as New

Bookmark

Subscribe

Mute

Email to a Friend
Highlighted
Beginner
Mark as New

Bookmark

Subscribe

Mute

Email to a Friend
Thanks Georg.
Your link leads to product datasheet (Updated:February 15, 2019) I am not sure whether all features introduced in latest IOS are projected there for CAT2960X.
The EIGRP Stub Routing feature was implemented in IOS 15.2(6)E1 which was released on ~March 5, 2018 so I would expect the feature would be indeed included also in the data sheet.
So now I am trying to understand why I am seeing in CFN this feature: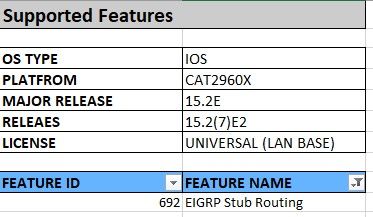 The workaround for me is to implement different supported routing protocol but that would not be preferred due to our standards.
Will wait a bit for more reactions in this thread...

Thank you!!!
Highlighted
VIP Mentor
Mark as New

Bookmark

Subscribe

Mute

Email to a Friend
Hello
CFN - should be correct so i would be encouraged to go for that release, probably require to use a routing SDM though
| | | | | | | |
| --- | --- | --- | --- | --- | --- | --- |
| OS TYPE | IOS | | | | | |
| PLATFROM | CAT2960X | | | | | |
| MAJOR RELEASE | 15.2E | | | | | |
| RELEAES | 15.2(7)E2 | | | | | |
| LICENSE | UNIVERSAL (LAN BASE) | | | | | |
| | | | | | | |
| RELEASE | LICENSE | PLATFORM | IMAGE NAME | DRAM | FLASH | EOL STATUS |
| 15.2(7)E2 | UNIVERSAL (LAN BASE) | CAT2960X | c2960x-universalk9-mz.152-7.E2.bin | 128 | 64 | N |
| | | | | | | |
| --- | --- | --- | --- | --- | --- | --- |
| OS TYPE | IOS | | | | | |
| PLATFROM | CAT2960X | | | | | |
| MAJOR RELEASE | 15.2E | | | | | |
| RELEAES | 15.2(6)E1 | | | | | |
| LICENSE | UNIVERSAL (LAN BASE) | | | | | |
| | | | | | | |
| RELEASE | LICENSE | PLATFORM | IMAGE NAME | DRAM | FLASH | EOL STATUS |
| 15.2(6)E1 | UNIVERSAL (LAN BASE) | CAT2960X | c2960x-universalk9-mz.152-6.E1.bin | 128 | 64 | N |


kind regards
Paul

Please rate and mark posts accordingly if you have found any of the information provided useful.
It will hopefully assist others with similar issues in the future