Beginner
Mark as New

Bookmark

Subscribe

Mute

Email to a Friend
Cisco Support Community: Expert Lab Session - MPLS VPN
Welcome to the Cisco Support Community Expert Lab session.
I am Hitesh Kumar (CCIE SP #38757) and I work for the High Touch Technical Support (HTTS) team in Cisco. Along with me Rahul Rammanohar (CCIE R&S, SP #13015), Vinay Kumar (CCIE R&S #35210) and Ruchir Jain (CCIE R&S #26911) will be active on this thread to discuss the challenges you run into while configuring mpls vpn setup. We will try our best to resolve your queries by providing supporting documents. If needed, we can setup a live interactive session to respond to the queries based on your inputs.
Please provide your inputs/queries by replying to this discussion thread.
Introduction & Topology Description:
Many Service Providers use MPLS/VPN as a technology to provide connectivity between multiple sites for customers. We would like you to look through the topology and let us know what doubts you might have on configuring the various protocols/features, working of the various protocols in this scenario, manipulation of the traffic flows and the MPLS packet forwarding.
The MPLS/VPN topology provided depicts a typical section of a Service Provider network. The routers in the cloud belong to the Service Provider and are used to provide MPLS/VPN services to customers. Customer routers (CE) connect to the edge routers (PE) of the Service Provider cloud. The Service Provider uses Route Reflectors (RR) to minimize the number of BGP neighborships within the core and they use 2 or more RRs to provide redundancy.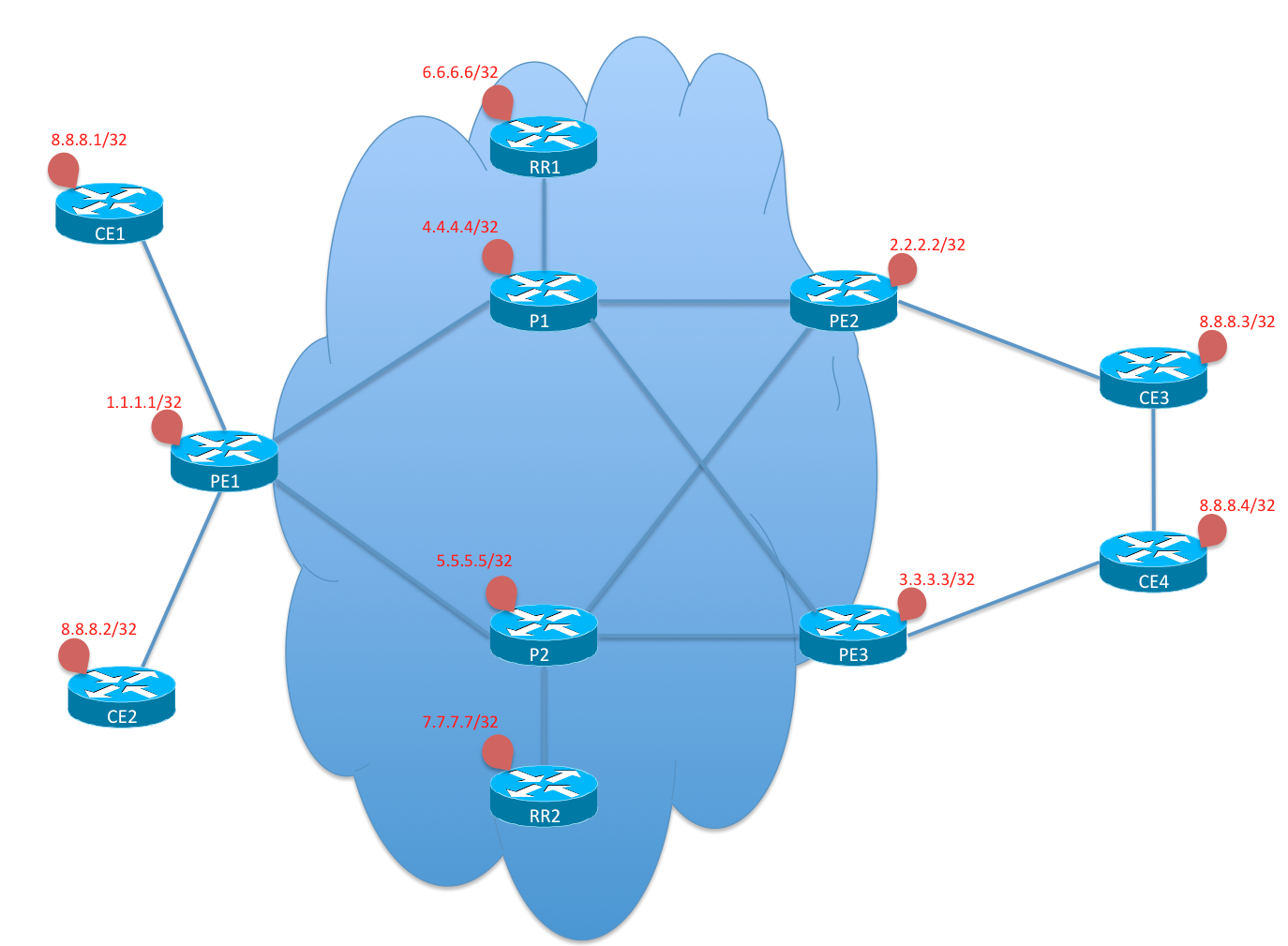 In this scenario, a Service Provider is using 7 routers of which, 2 routers are RRs, 2 routers are Core routers (P) that do not connect to any customer and 3 PE routers that connect to the 4 different sites of a customer (say ABC). Customer ABC has 2 Hub sites (on the right side of the diagram) and 2 Spoke sites (on the left side of the diagram). The hub sites can talk to each other via the service provider link or via a backdoor link. The spoke routers cannot talk to each other directly, but need to talk via either of the hub sites only. The customer has configured OSPF as the IGP within his network and the Service Provider has configured ISIS.
Additional Reference: