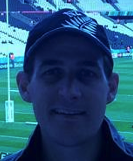 Beginner
Mark as New

Bookmark

Subscribe

Mute

Email to a Friend
Default Route BGP conundrum
I have a router with the follow routes in it:
B 10.0.0.0/16 via interface 1 - learnt from eBGP neighbour - AS Path length 2
*B 123.123.123.123 via interface 2 - default route dirstibuted by an iBGP neighbour in the same AS - AS path length 0
(sorry this is not an exact copy of the routing table but should give the general idea).
If I send a packet to the 10.0.32.0/22 network (assuming there are no other routes in the table), it SHOULD send the packet out interface 1 right?
A route is chosen in the following order:
1. Most specific match
2. AD
3. Metric
Clearly the router out interface 1 matches the route more specifically.
The problem is, the packet is actually being sent out the default route (interface 2). If the "most specifc match" was not a factor, then I can understand as BGP would prefer the shortest AS_Path Length.
Can anyone help me understand why this is happening?