Mark as New

Bookmark

Subscribe

Mute

Email to a Friend
Fiber cable + 3845 router SFP slot
Hi All ,
3845 router is placed at customer location and is connected to core switch using fiber cable.
I Would like to know the type of fiber cable which is being used to connect router and switch ie LC or SC type cable.Is there any document available in cisco site which provides information about cable type for 3845 router SFP slot.
Picture is enclosed with this mail.
Cisco 3845 (revision 1.0) with 221184K/40960K bytes of memory.
Processor board ID FHK1020F2T2
3 FastEthernet interfaces
2 Gigabit Ethernet interfaces
2 Serial interfaces
2 Channelized E1/PRI ports
1 Virtual Private Network (VPN) Module
1 Subrate T3/E3 port
DRAM configuration is 64 bits wide with parity enabled.
479K bytes of NVRAM.
62720K bytes of ATA System CompactFlash (Read/Write)
Configuration register is 0x2102
Slot 0:
C3845 Mother board 1GE(TX,SFP),1GE(TX), integrated VPN and 4W Port adapter, 7 ports
Port adapter is analyzed
wr2#sh int g0/0
GigabitEthernet0/0 is up, line protocol is up
Hardware is BCM1125 Internal MAC, address is 0017.949a.3ed0 (bia 0017.949a.3ed0)
Internet address is 10.x.x.x /29
MTU 1500 bytes, BW 1000000 Kbit/sec, DLY 10 usec,
reliability 255/255, txload 1/255, rxload 1/255
Encapsulation ARPA, loopback not set
Keepalive set (10 sec)
Full-duplex, 1000Mb/s, link type is autonegotiation, media type is SX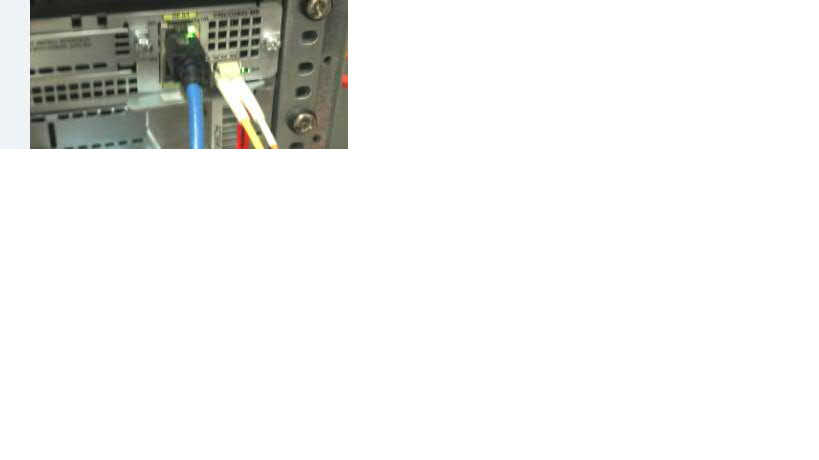 Thanks ,
M S K
Thanks , M S K
Mark as New

Bookmark

Subscribe

Mute

Email to a Friend
Below is show controller output
---------------------------------------------
wr2#sh controllers
Interface GigabitEthernet0/0 (idb 0x65239118)
Hardware is BCM1125 Internal MAC (Revision A3)
Network connection mode is AUTO
network link is up
Config is 1Gbps, Full Duplex
Selected media-type is SFP
SFP type is 1000BaseSX
MAC Registers:
ds->rx_all_multicast = 0x659C8F50
mac_hash_0_0 = 0x0000000000000000
mac_hash_1_0 = 0x0000000000000000
mac_hash_2_0 = 0x0000000400000000
mac_hash_3_0 = 0x0000000000000000
mac_hash_4_0 = 0x0000000000000000
mac_hash_5_0 = 0x0000000000000000
mac_hash_6_0 = 0x2000000000000000
mac_hash_7_0 = 0x0000000000000000
mac_admask_0 = 0x0000FFFFFFFFFFFF, mac_admask_1 = 0x0000000000000000
mac_cfg = 0x000000C8000A0176, mac_thrsh_cfg = 0x0000080400087804
mac_vlantag = 0x0000000000000000, mac_frame_cfg = 0x05F4400000280200
mac_adfilter_cfg = 0x0000000000000E28, mac_enable = 0x0000000000000C11
mac_status = 0x0000000000000000, mac_int_mask = 0x00004F0000C300C3
mac_txd_ctl = 0x000000000000000F, mac_eth_addr = 0x0000D03E9A941700
mac_fifo_ptrs = 0x05F4400000280200, mac_eopcnt = 0x000044003A3A3A3A
MAC RX is enabled RX DMA - channel 0 is enabled, channel 1 is disabled
MAC TX is enabled TX DMA - channel 0 is enabled, channel 1 is disabled
Device status = 1000 Mbps, Full-Duplex
Thanks ,
M S K
Thanks , M S K