Help me to configure MPLS VPN 1 site Rip and 1 site OSPF
Options
Mark as New

Bookmark

Subscribe

Mute
‎12-07-2013 04:02 PM - edited ‎03-04-2019 09:48 PM
Hi everybody.
I have a problem with my assignment. Can you help me?
I have a topology of MPLS VPN like this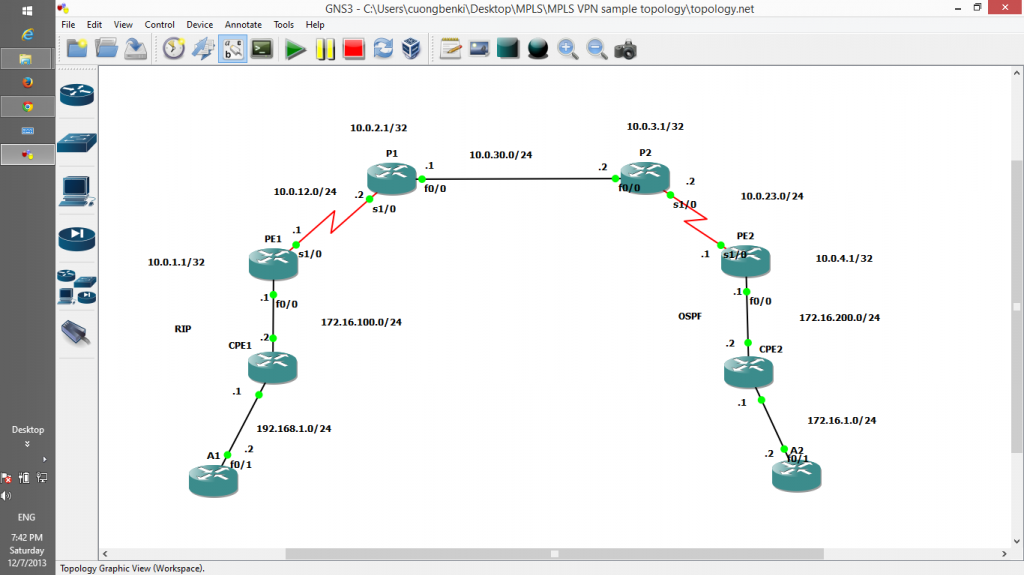 And my problem is my teacher ask me to configure one site with RIP routing protocol between PE1 and CPE1; another one with OSPF routing protocol between PE2 and CPE2. And this is my problem, i dont know how to do that. If configure two site RIP-RIP or OSPF-OSPF, i can practice immetately but with this problem, i dont know how to start.
Anyone can help me? I'm very apreciate your help.
This is my basic configuration:
Configuration PE1(RIP):
hostname PE1
no ip domain lookup
ip http server
interface loopback 0
ip address 10.0.1.1 255.255.255.255
exit
interface serial 1/0
ip address 10.0.12.1 255.255.255.0
clock rate 64000
no shutdown
exit
router ospf 1
network 10.0.0.0 0.255.255.255 area 0
exit
mpls ldp router-id loopback0 force
interface serial1/0ư
mpls label protocol ldp
mpls ip
exit
ip vrf A
rd 100:1
route-target both 1:100
exit
interface fastethernet 0/0
ip vrf forwarding A
ip address 172.16.100.1 255.255.255.0
no shut
exit
router rip
version 2
address-family ipv4 vrf A
no auto-summary
network 172.16.0.0
redistribute bgp 100 metric transpa
exit
exit
router bgp 100
neighbor 10.0.4.1 remote-as 100
neighbor 10.0.4.1 update-source loopback0
address-family vpnv4
neighbor 10.0.4.1 activate
neighbor 10.0.4.1 send-community both
exit
address-family ipv4 vrf A
redistribute rip
no auto-summary
exit
exit
Configuration PE2 (OSPF):
hostname PE1
no ip domain lookup
ip http server
interface loopback 0
ip address 10.0.4.1 255.255.255.255
exit
interface serial 1/0
ip address 10.0.23.1 255.255.255.0
clock rate 64000
no shutdown
exit
router ospf 1
network 10.0.0.0 0.255.255.255 area 0
exit
mpls ldp router-id loopback0 force
interface serial1/0
mpls label protocol ldp
mpls ip
exit
ip vrf A
rd 100:1
route-target both 1:100
exit
interface fastethernet 0/0
ip vrf forwarding A
ip address 172.16.200.1 255.255.255.0
no shut
exit
router ospf 2 vrf A
network 172.16.0.0 0.0.255.255 area 0
redistribute bgp 100 subnets
exit
router bgp 100
neighbor 10.0.1.1 remote-as 100
neighbor 10.0.1.1 update-source loopback0
address-family vpnv4
neighbor 10.0.1.1 activate
neighbor 10.0.1.1 send-community both
exit
address-family ipv4 vrf A
redistribute ospf 2
no auto-summary
exit
exit
Options
Mark as New

Bookmark

Subscribe

Mute
‎12-09-2013 02:45 PM
oh interesting, try this on PE2
router ospf 2 vrf A
network 172.16.0.0 0.0.255.255 area 0
redistribute bgp 100 subnets
capability vrf-lite
exit
interface serial 1/0
ip vrf forwarding A
ip address 10.0.23.1 255.255.255.0
clock rate 64000
no shutdown
exit
And on PE1
interface serial 1/0
ip vrf forwarding A
ip address 10.0.12.1 255.255.255.0
clock rate 64000
no shutdown
exit
router rip
version 2
address-family ipv4 vrf A
no auto-summary
network 172.16.0.0
redistribute bgp 100 metric 10 ! transparent not a good idea since rip max metric is 15
exit
Kind regards