Highlighted
Beginner
Mark as New

Bookmark

Subscribe

Mute

Email to a Friend
high retransmission and duplicate ack in core router interface(ASR 1001)
Hello
we have network consists of NOC and more 15 branch office.branch offices are interconnect with 2960 switch in ring topology using fiber line.
At NOC we have 2 2960 switch terminating the fiber ring(both switch are interconnect etherchannel to complete the ring topology ) and 2 asr1001 routers and of the switch is connected to router with gig port
For past month client were complain internet speed.after doing investigations i have figured out that router port connecting to switch have high total output drop and high packet dropped from output queue.(i have cleared errors to make sure it wasn't old error counters but it increase immediately ) pictures included
I had SPAN switch port connecting router and capture packets using Wireshark and after doing Bad TCP i have found found more than 10% and sometimes 30% bad tcp(retransmission, duplicate ack and TCP out of order )
Router interface configuration
interface GigabitEthernet0/0/1
description "All LAN Interface" - -Core-Sw1 - Gi1/0/48
no ip address
no ip redirects
no ip unreachables
no ip proxy-arp
ip nat inside
ip nbar protocol-discovery
ip tcp adjust-mss 1452
speed 1000
no negotiation auto
cdp enable
service-policy output Parent-LAN-Shaper
!
Switch interface configuration
interface GigabitEthernet1/0/48
description ** Connection to MOPT-CE-Router - Gi0/0/1
switchport trunk native vlan 299
switchport mode trunk
switchport nonegotiate
logging event trunk-status
speed 1000
duplex full
srr-queue bandwidth share 1 70 25 5
priority-queue out
mls qos trust dscp
spanning-tree portfast
ip dhcp snooping trust
end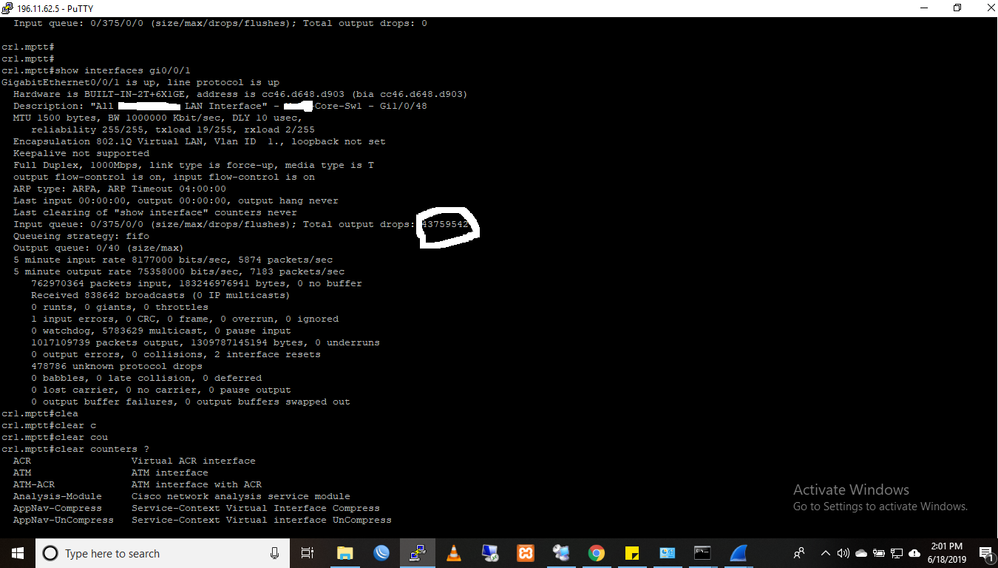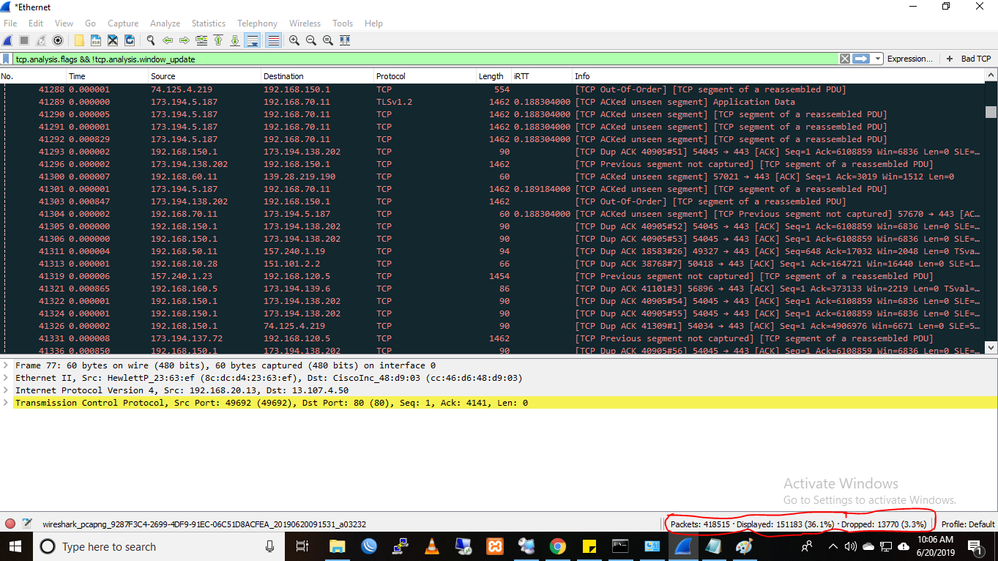 After reading some forums i have suspect that service policy was causing the issue and i have delete the service policy to see if it has any effect and after remove service policy from the router interface the output drop and packet dropped from output queue stopped.but i did another wireshark capture and we are still experience high number of retransmission and duplicate ack
we have more than 20 vlan and subinterface in router port
Any support is highly appreciated.