Highlighted
Beginner
Mark as New

Bookmark

Subscribe

Mute

Email to a Friend
Industrial Plant network requirement
Hi All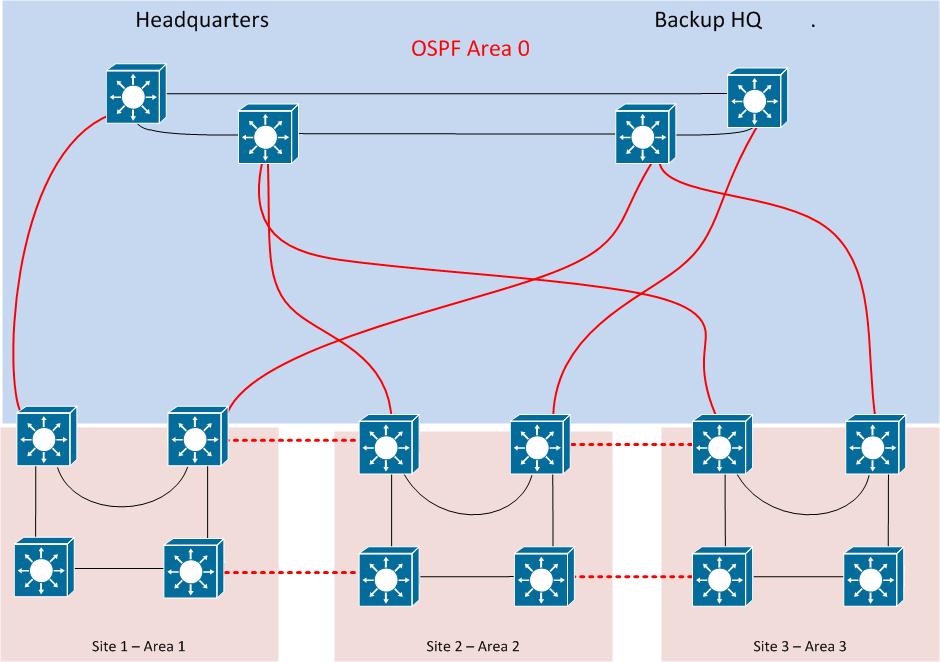 The diagram above shows the network topology used for a multi-site industrial plant. The HQ and Backup HQ consist of 4 Layer 3 switches, connected in a high-availability L2 Ring, forming a single LAN (Black links). Similar L3 switches and ring structures are used at each of the sites, forming LANs for each site.
Each of the sites are connected back to the HQ and Backup HQ via redundant point-to-point links (Red links). Each site is configures as an OSPF Area, and the HQ/Backup HQ form Area 0. OSPF is used as the routing protocol. The Red dotted lines are not part of the current topology.
In this topology, there are no physical links between sites, and inter-site communications are handled via Area 0.
However, there is a new requirement whereby inter-station communication should remain unaffected even if both the HQ and the Backup HQ are not available! i.e. all 4 switches in Area 0 are down. The only way to achieve this is to add physical point-to-point links between the sites (as shown by the Red dotted lines).
However, I do have some questions regarding this architecture:
1. Is it possible to have links between OSPF Areas where either of the Areas is not Area 0?
2. Under normal operation (Area 0 is available), will these links affect performance of the network?
3. Under degraded operation (Area 0 is unavailable), can OSPF still route data between the sites?
If the above architecture is not workable, then what alternatives are available? I can think of a two possibilities:
1. Insert the inter-site links and configure all sites to be on the same Area (Area 1), and maintain Area 0 for HQ/Backup HQ
2. Insert the inter-site links and configure all sites and the HQ/Backup HQ to be on Area 0
Any other suggestions? I would like to maintain a separate OSPF Area for each site, but i cannot figure out how this can be achieved if i am to satisfy the new requirement. Any inout will be much appreciated.
Thank you
Muffi
VIP Expert
Mark as New

Bookmark

Subscribe

Mute

Email to a Friend
DisclaimerThe Author of this
Disclaimer
The Author of this posting offers the information contained within this posting without consideration and with the reader's understanding that there's no implied or expressed suitability or fitness for any purpose. Information provided is for informational purposes only and should not be construed as rendering professional advice of any kind. Usage of this posting's information is solely at reader's own risk.
Liability Disclaimer
In no event shall Author be liable for any damages whatsoever (including, without limitation, damages for loss of use, data or profit) arising out of the use or inability to use the posting's information even if Author has been advised of the possibility of such damage.
Posting
#1 yes you can link Areas without going through Area zero, but they will not route OSPF traffic.
#2 and 3 depend on your actual topology, which isn't total clear.
Which routers are your ABRs? Those at each site with connections to your core routers? If so, your "top" dashed line can interconnect if included in area zero. Your "bottom" dashed lines would not route between areas, unless you make those routers ABRs too.