Beginner
Mark as New

Bookmark

Subscribe

Mute

Email to a Friend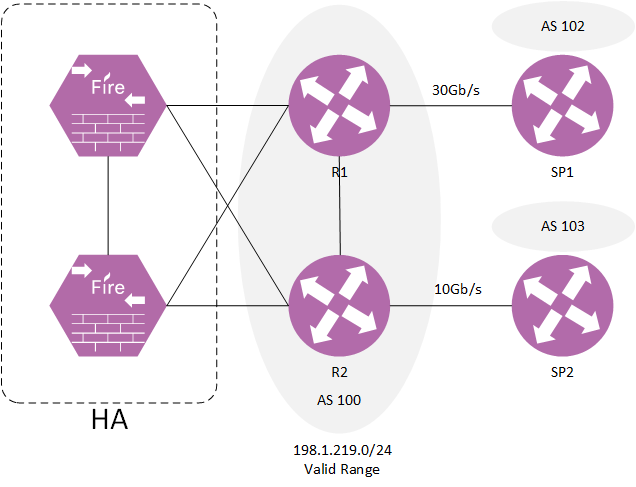 This is not a load-balancing PfR question!!!
I can tackle what I need to be done here by moving the nat to the Firewall, but what if we want to do the nat on the router!
I have two separate questions..
I couldn't find any track operator for the NAT command.
1)
in this scenario I want both routers to forward the traffic simultaneously, but one of them to do the nat as long as the other one is up! so I want R1 to do the nat at all time as long as it's up and if it went down, R2 take over the nat process(that has nothing to do with the forwarding or routing process as once again both routers should forward simultaneously, this is just about the nat operation)...
please forget about the point to point links(to isps) as we're not using those IPs for the nat, only one ip from my routed subnet(198.1.219.1) is assigned for nat.
the only way I can think of is using the HSRP and wasting 3 routable ip by subnetting my /24 subnet to one /30 subnet.
I was planning on using my whole /24 subnet with single ip subnets /32 for just doing port forwardings aside from the PfR...
2) how else we can tackle this.., while both edge routers are forwarding the traffic simultaneously