Highlighted
Beginner
Mark as New

Bookmark

Subscribe

Mute

Email to a Friend
Hi guys,
Just a bit confusion here. I know from Cisco documentation, per-packet load balancing is only enabled via CEF. But while I am doing labs in GNS3, I think I have enabled per-packet load sharing and at the same time disabled CEF, which means fast switching is ON! Oh well, my screenshot could tell:
Fast swiching is ON right? And Per-packet load-sharing is on, Right? Tell me if I am wrong. Please.
This is the config: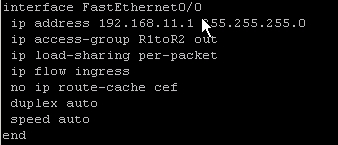 Cheers,
Alex
2 ACCEPTED SOLUTIONS
Highlighted
Mark as New

Bookmark

Subscribe

Mute

Email to a Friend
Hi Alex,
I agree with Rick. My understanding is that you have configured per-packet load balancing in CEF for that interface if that interface uses CEF. You may not have CEF activated on the interface but if it was, it would be configured for per-packet load balancing, hence the output of the show cef interface command.
Now, you indicated that the per-packet load balancing is actually happening. How are you generating the flow of packets that are being per-packet load balanced? Locally originated traffic (i.e. packet originated by the sending router) are, to my best knowledge, always process-switched and therefore subject to per-packet load balancing regardlesss of the switching method of intefaces. So if you were sending, say, pings from the same router on which you changed the CEF interface settings, you will still see the packets being load balanced - but not because of CEF but rather because of process switching.
Best regards,
Peter
Highlighted
Mark as New

Bookmark

Subscribe

Mute

Email to a Friend
Hi Alex,
It's good to know that your experiments start aligning with the documentation
Just a bit confusing to see the output of show ip cef x.x.x.x still tells me that per-packet load-sharing is ON (actullay not).
Well, consider the fact that in the show ip cef x.x.x.x command, you are asking about a particular destination but you are not saying through which interface did the packets to this destination came into your router - and for CEF, the ingress interface is important. So the output indeed tells you what would happen to the packets if they came via a CEF-enabled interface. After all, if you know that the ingress interface is not CEF-enabled then it doesn't make sense to ask CEF what it would do with those packets
Best regards,
Peter