Highlighted
Beginner
Mark as New

Bookmark

Subscribe

Mute

Email to a Friend
Team,
Recently I participated to one of the Cisco partner briefing where they pitched iWAN design using internet as an alternate transport. With dual ISP connections, the increased SLA at reduced cost compare to MPLS. It leveraged DMVPN, WAAS, QoS, PfR features to achieve the goal. If I had a single router per site, its dead simple configuration but don't know how to implement with dual headend router. Would something like attached diagram be possible? How would WAAS function for such redundancy? I am not worried about other features but more worried about how WaaS and PfR would be configured.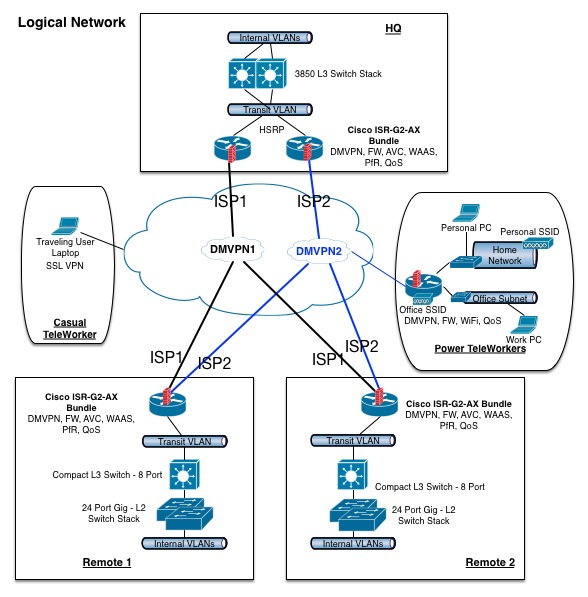 Thanks in advance,
VIP Expert
Mark as New

Bookmark

Subscribe

Mute

Email to a Friend
Disclaimer
The Author of this posting offers the information contained within this posting without consideration and with the reader's understanding that there's no implied or expressed suitability or fitness for any purpose. Information provided is for informational purposes only and should not be construed as rendering professional advice of any kind. Usage of this posting's information is solely at reader's own risk.
Liability Disclaimer
In no event shall Author be liable for any damages whatsoever (including, without limitation, damages for loss of use, data or profit) arising out of the use or inability to use the posting's information even if Author has been advised of the possibility of such damage.
Posting
PfR shouldn't have any problem with multiple routers. The MC is what keeps track of egress pathes, whether on a single router with mutiple egress ports and/or multiple egress routers.
I haven't worked with Cisco's WaaS, so I don't know whether it shares state information between devices. This would be something to check.
"iWAN", eh? That's a nice marketing term.
I've (extensively) used VPN across Internet for a site-to-site connectivity. It can work fairly well (I've found it often on par with private WAN cloud technologies, e.g. frame-relay, ATM and MPLS), but if you want to manage application performance using QoS you really need to be able to manage all congestion points. Cloud egress, for multipoint, is a major issue. "Sharing" the Internet connection for VPN and "regular" Internet access is a problem too.