Options
Mark as New

Bookmark

Subscribe

Mute
‎07-13-2020 03:12 PM - edited ‎07-13-2020 03:18 PM
hey guys, i hope you all are doing well. just have a quick one. total noob here btw so my apologies if this seems dumb.

on my lab, as i follow one of Keith Barker's video (screenshot), upon verification on R1, i noticed that R4's network 10.0.4.0/24 (supposedly a LAN of its own) isn't included in R4's LSA Type2. Only networks directly connected to its interfaces fa5/0 (to R3) & gi2/0 (to R2) are created. i would expect stubs are included in "Network LSAs" considering they're technically "networks", are they not?

nonetheless, they're learned as "OSPF" routes most probably through LSA Type 1. i'm definitely missing something here.

enlighten me, oh wise ones! :(

- jiro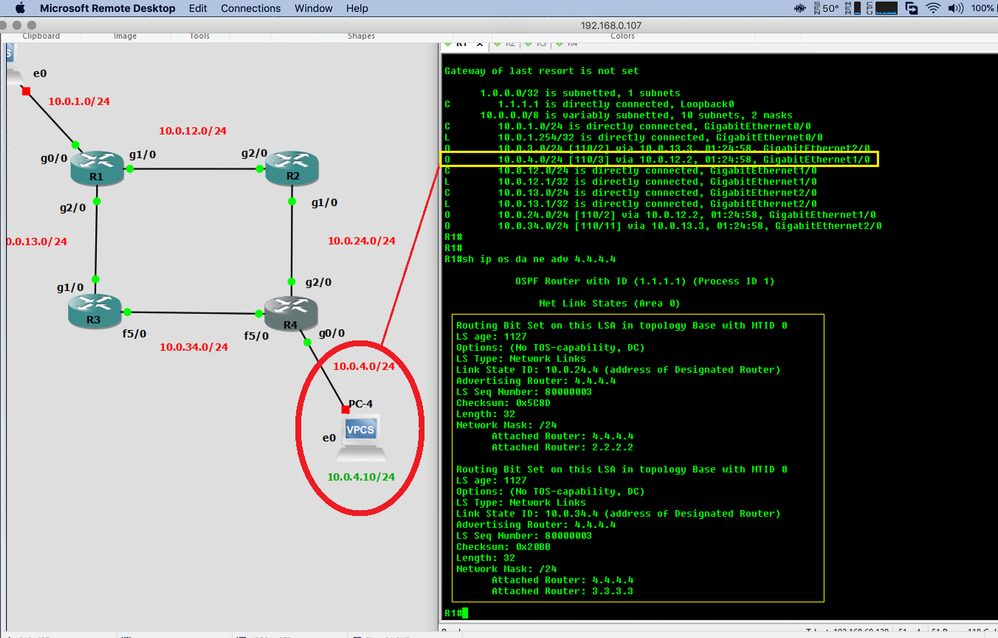 1 Accepted Solution
Options
Mark as New

Bookmark

Subscribe

Mute
‎07-15-2020 02:19 AM
Hello @sujirou ,
@Martin L is right there is no real advantage for OSPF to create an LSA type 2 for stub networks because there are no OSPF neighbours out there and no election of DR/BDR takes place.
The network LSA is needed if two or more OSPF routers share a common segment the OSPF network type is broadcast (the default for LAN interfaces) and the network LSA describes from the point of view of the DR and using as link-id the DR LAN ip address all the nodes connected to the common segment.
Just to be clear in modern networks in point to point links to avoid DR/BDR election and the creation of an unnecessary LSA type 2 is best practice to use ip ospf network point-to-point (only two neighbors on the link).
So the expectation to see a stub network to generate its own network LSA is not correct. OSPF attempts to minimize and optimize the number of LSAs in the database and the network LSA for a stub network is useless as it provides no additional info as the list of nodes on segment is empty.
Stub networks are listed and advertised in router LSA, this is correct and sufficient to describe the topology within the area.
Hope to help
Giuseppe