Highlighted
Beginner
Mark as New

Bookmark

Subscribe

Mute

Email to a Friend
Route device with public IP via Cisco ASA.
Hi All,
I have IP range from our provider 9.2.4.0/24
GW is configured on ISP router (ISPr) 9.2.4.1/28
I have two FWs, one of them is used for Internal (FWi) network and second one is used for Ousourcing (FWo).
FWi has IP: 9.2.4.4
FWo has IP: 9.2.4.7
Aditionally I have device (Dev) which must have public IP 9.2.4.13
Dev should be behind FWo, I have setted up default route on Dev to reach any go via FWi and on ISPr to reach Dev, go via FWi. - for Internet this works.
Problem is with comunication from internal network (behind FWi) to Dev, because traffic goes directly to Dev and not through FWo, same issue is for different direction from Dev to internal network behind FWi.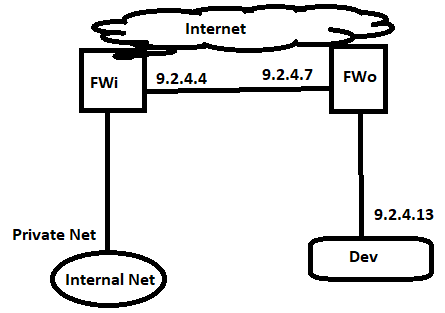 FWo is cisco ASA 5508, what I can do to solve this issue and put Dev behind cisco ASA ?
Thank you
1 ACCEPTED SOLUTION
Highlighted
Collaborator
Mark as New

Bookmark

Subscribe

Mute

Email to a Friend
Hi,
About loosing one public IP, you can't just win, there is no solution, generally speaking which has no drawbacks or loses, it's just a matter of you being able to visualise and assess what you loose, what you win and take a decision. So, finally, solutions:
1. Clustering or active/active, both with multiple-context, where you'll be having one context as transparent; if the HW model is 5508, than no clustering, just active/active with routed and transparent contexts
2. Keep things as are, just pick the 9.2.4.12/30 subnet and attach it behind your routed FWo
If you weigh better the pros and cons, the first options requires much more changes, technical expertise and complexity, and without knowing the full architecture and overall network requirements it may actually break or influence other things. The second option, has only the drawback of "loosing" one public IP. You have a /24 PA public IP space. I don't really see loosing one IP as a loss, given your options.
Regards,
Cristian Matei.