Beginner
Mark as New

Bookmark

Subscribe

Email to a Friend
Hi everybody,

I'm actually studying CCNP route/switch certification and I have a question with the topology below.
I try to understand the mechanism of the GLBP protocol. So I made a real lab with some gears.
The following problem is that R3 have 2 defaults route to reach the network 192.168.200.x.
Once goes to Serial 1/1, the other on Serial 1/0.
When I try to ping the host R4 (192.168.200.100) from the serial 1/1 interface it's work.
But it's doesn't work from the serial 1/0. It's seem I have a routing problem. How I can fix that ?
On the other hand, host R4 can reach the loopback interface of R3;
I copy/past some result of command just below the scheme.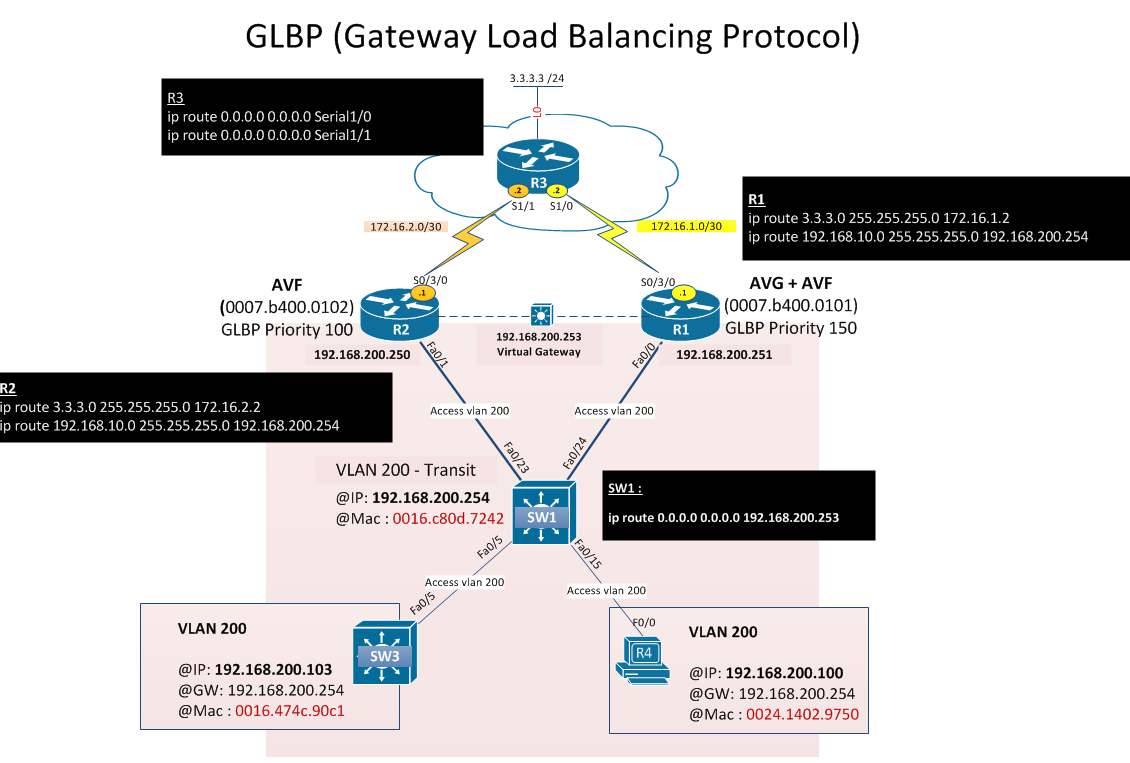 R4#sh arp
Protocol Address Age (min) Hardware Addr Type Interface
Internet 192.168.200.253 86 0007.b400.0102 ARPA FastEthernet0/0
The forwarding router for host R4 is R2
R3#traceroute 192.168.200.100 source loopback 0
Type escape sequence to abort.
Tracing the route to 192.168.200.100
1 172.16.2.1 8 msec
172.16.1.1 8 msec
172.16.2.1 8 msec
2 192.168.200.100 8 msec 8 msec *
R3#traceroute 192.168.200.100 source serial 1/1
Type escape sequence to abort.
Tracing the route to 192.168.200.100
1 172.16.2.1 8 msec * 8 msec
2 192.168.200.100 8 msec 8 msec *
R3#traceroute 192.168.200.100 source serial 1/0
Type escape sequence to abort.
Tracing the route to 192.168.200.100
1 *
172.16.1.1 8 msec *
2 * * *
3 * * *
4 * * *
5 * * *
6 * * *