Highlighted
Beginner
Mark as New

Bookmark

Subscribe

Mute

Email to a Friend
I am going to design a two level Route Reflector architecture in order to get scaling and flexibility for the BGP updates coming for a large number of clients. I am not sure of the basic configuration iBGP and iBGP-RR necessarily for create the core of route reflector in the network.
My aim is to design the first hierarchy made by two routers RR1 and RR2 (I tier) nad the second hierarchy composed by two couple of Route Reflector (RR3&RR4 and RR5&RR6). Route reflectors belonging to the second hierarchy must be client of route reflectors belonging to the first hierarchy. Each RR's pair (like RR1&RR2 or RR5&RR6) is supposed to accomplish redundancy for clients, so that RR1 is redundant with RR2, RR3 is redundant with RR4 and RR5 is redundant with RR6. A big number of client routers will be connected through two BGP sessions to the closest RR pair belonging to the second hierarchy (look at the picture below).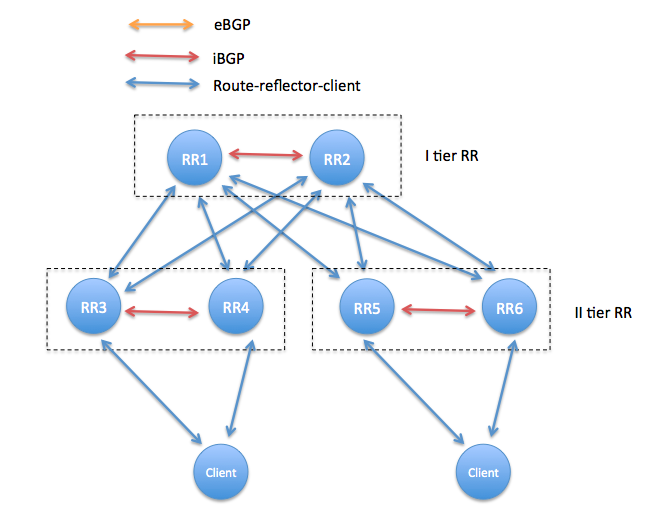 PICTURE 1
My question is: have I to configure the iBGP session between each pair of RR (red arrows in the picture below)? My guesstimate is that i am allowed to not configuring the iBGP session between the RR's pairs because that doesn't make big difference:
For example: would the route coming from RY propagates across the net if i had a eBGP session between an external router RY and R3? I guess the routes coming from RY would be definitely propagate to any router in the internal network even though the iBGP between RR's pairs has not be configured (Note that in the picture below i have cancelled the red arrows):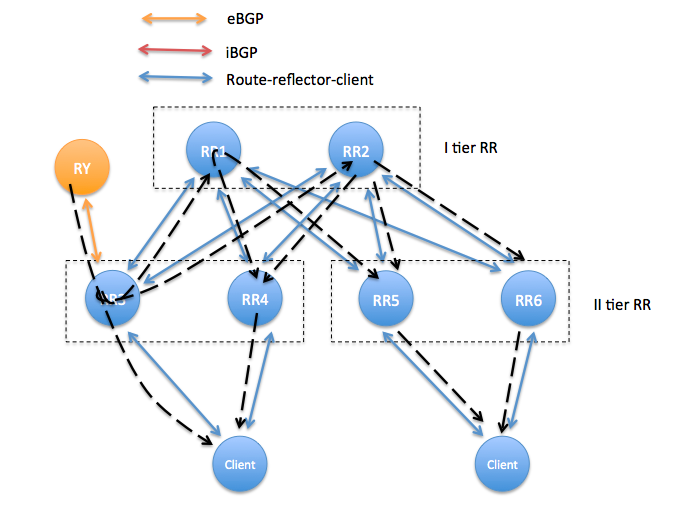 PICTURE 2
The same happend in my opinion for a route coming from a Client: teh route advertised by ClientrA will reach Clielt B with redundant paths:
PICTURE 3
Does anybody have designed multi tiers of Route reflector hierarchy for giving to my any tip? The model i have thought looks like CORE DISTRIBUTION of RR, does it make sense for scaling?
Thanks
M