Mark as New

Bookmark

Subscribe

Mute

Email to a Friend
Switch Problem, every 2 Hours Port is down
Dear Cisco Friends
I got a puzzle for you.
I'm currently experiencing weird Network behaviour. Every 2 hours there is a interruption of the network on a port, after i changed the topology
(01.07 16:00)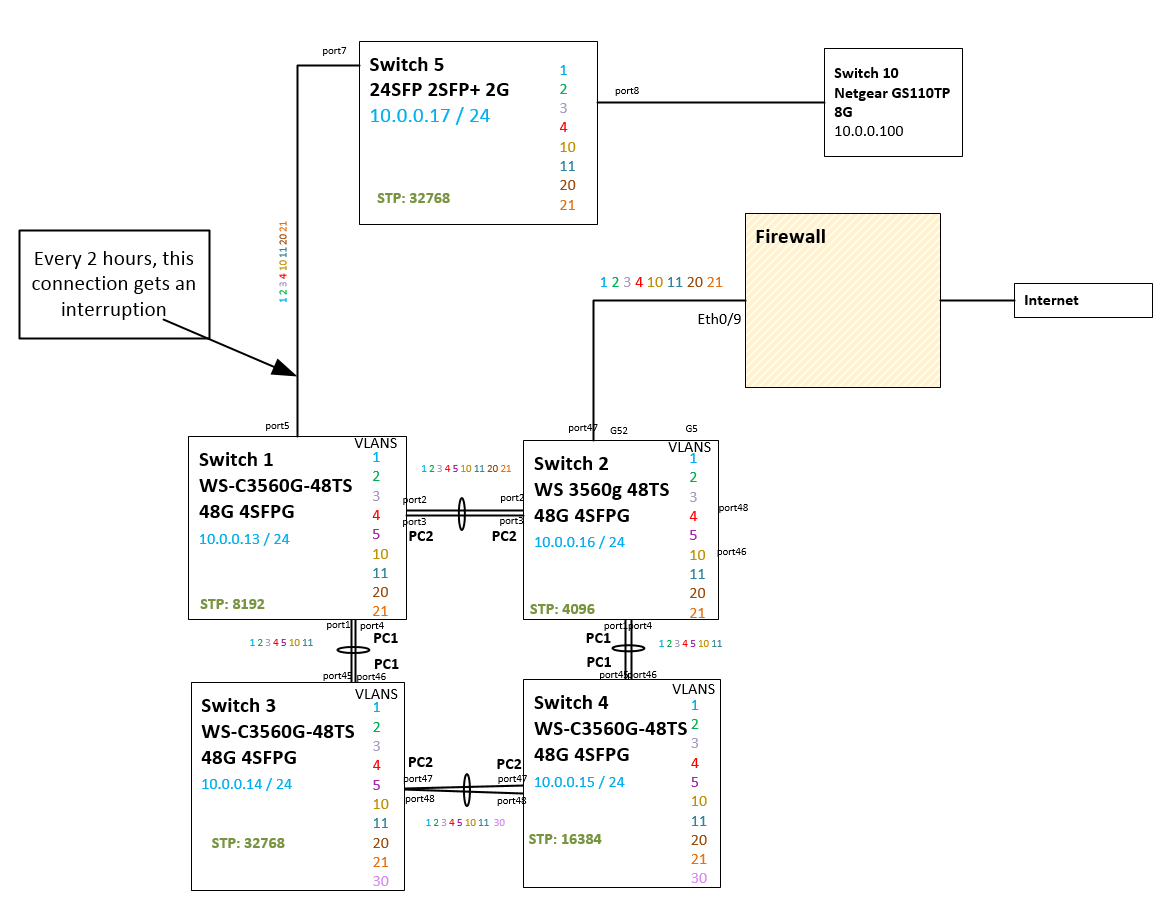 What you think might be the issue?
STP = spanningtree
PC = portchannel
I checked Spanning Tree and there is no BPDUGuard activated on the Switch 1 port 5
Spanning tree is not working though, i couldnt find the issue yet.
Switch 1-4 are normal IOS-cisco switch
Switch 5 is a "cheap" SG300 Switch, with different properties for Spanning Tree.
If you would like to have some diagnostic command outputs just ask :)
Greetings, Roman
Mark as New

Bookmark

Subscribe

Mute

Email to a Friend
Edit: Spanning tree is, of course, working between Switch 1 - 4.
But Switch 5 thinks he is the root.
Spanning Tree is activated on both switches.
Beginner
Mark as New

Bookmark

Subscribe

Mute

Email to a Friend
I have some news regarding the events happening on the switch:
Jul 2 09:12:47.899: pm_extern_port_link_event: link-down on Gi0/5
Jul 2 09:12:47.899: pm_port 1/5: during state trunk, got event 5(link_down)
Jul 2 09:12:47.899: @@@ pm_port 1/5: trunk -> pagp
Jul 2 09:12:47.916: Found no corresponding dummy port for instance 1, port_id 128.5
Jul 2 09:12:47.916: Found no corresponding dummy port for instance 2, port_id 128.5
Jul 2 09:12:47.916: Found no corresponding dummy port for instance 3, port_id 128.5
Jul 2 09:12:47.916: Found no corresponding dummy port for instance 4, port_id 128.5
Jul 2 09:12:47.916: Found no corresponding dummy port for instance 10, port_id 128.5
Jul 2 09:12:47.916: Found no corresponding dummy port for instance 11, port_id 128.5
Jul 2 09:12:47.916: Found no corresponding dummy port for instance 20, port_id 128.5
Jul 2 09:12:47.916: Found no corresponding dummy port for instance 21, port_id 128.5
Jul 2 09:12:47.924: *** port_modechange: 1/5 mode_none(10)
Jul 2 09:12:47.924: @@@ pm_port 1/5: pagp -> dtp
Jul 2 09:12:47.924: pm_flap_timer_stop: Gi0/5 pagp
Jul 2 09:12:47.924: *** port_bndl_stop: 1/5 : inform yes
Jul 2 09:12:47.924: @@@ pm_port 1/5: dtp -> present
Jul 2 09:12:47.924: *** port_dtp_stop: 1/5
Jul 2 09:12:47.924: pm_flap_timer_stop: Gi0/5 pagp
Jul 2 09:12:47.924: pm_flap_timer_stop: Gi0/5 dtp
Jul 2 09:12:47.924: pm_flap_timer_stop: Gi0/5 unknown
Jul 2 09:12:47.924: *** port_linkchange: reason_link_change(3): link_down(0)1/5
Jul 2 09:12:47.924: pm_port 1/5: idle during state present
Jul 2 09:12:47.924: @@@ pm_port 1/5: present -> link_down
Jul 2 09:12:47.941: pm_port 1/5: during state link_down, got event 29(pruning) (ignored)