Options
Mark as New

Mark as Read

Bookmark

Subscribe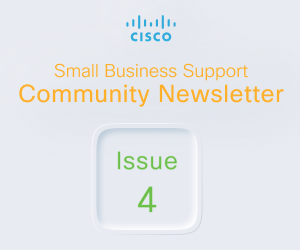 Welcome

Welcome to the latest issue of our newsletter, where you can keep up with the latest from our community and support teams.

This month our newsletter is aiming to help support the wave of people suddenly finding themselves working from home. So we're highlighting articles and videos that help you setup remote access.

If we don't have your use case covered here or via web search, let us know - SBSC-Feedback@Cisco.com

Important Date:

5/1 - Launch - Mesh Wireless 100 and 200 Series

Working From Home - Welcome to the New Normal
Working from home won't work for every job. For the jobs that are able, it can be a very positive change. Welcome! Our team has been remote for some time now and we love it. We understand it may not be for everyone, so we're offering some tips on adjusting to unfolding change.
Use asynchronous communication tools like WebEx Teams or Slack

Dedicate spaces or channels to triage specific projects and invite stakeholders

If you lead a team, send a weekly message highlighting what you're thinking about for the week, challenges etc.
Be very clear about the locations of shared knowledge or process - always have it ready to share
Leverage Split Tunnel VPN policies to route internet and intranet traffic accordingly
Get out and walk if you are able, or exercise of any kind - stay active
Use video when conferencing - non-verbal communication can help prevent miscommunication
The above is the tip of the iceberg, but the point is that working from home can be a great boon for your team and you may find your team evolving to take advantage of this type of work in the future. For a more detailed look at driving a successful WFH initiative see Git Lab's Remote Manifesto.
Working From Home - Cisco's Approach
Our goal is to proactively help our partners and customers manage these in these trying times. To read more about Cisco's response from Chuck Robbins see Chuck's letter to our customers and partners. Further, WebEx is freely available, see this blog post for additional details.
Wireless Access Points Firmware News
A defect has been identified within the firmware of the below Wireless Access Points only. When updated to the firmware versions below, the issue causes these device to not complete a reboot. If you think you are affected by this issue, contact CX for troubleshooting and verification. Upon verification users affected by this issue will have their RMA processed/honored.
WAP125 version 1.0.2.0
WAP581 version 1.0.2.0
WAP150 version 1.1.1.0
WAP361 version 1.1.1.0
The amount of users who might experience this is low. To prevent users from potentially experiencing this issue, the firmware has been recalled from CCO and is temporarily unavailable for download. Our engineering team is currently QA'ing the fix and we expect to have the firmware back up to CCO by the first week of April. If the above firmware versions corrected a critical issue for your production environment, let your Cisco representative know and we'll work with you directly.
New Firmware
Heads up! When shopping for our gear online...
Be sure to get all you can out of your hardware (Warranty & Support), check for "by Cisco" when buying on Amazon.
By the way - did ya know we're on Amazon? (Link) Available only in US. UK & Canada coming soon.

Tip courtesy Chris at the CrossTalk channel on YouTube. Chris also did a great overview of the RV345P (Link)

AnyConnect
VPNs and Related
Beginner Friendly
Floppy disks as an icon representing save work/progress - younger generations are liable to mistake the floppy disk as a "3D printed 'Save' icon". (Link)
But what do you think?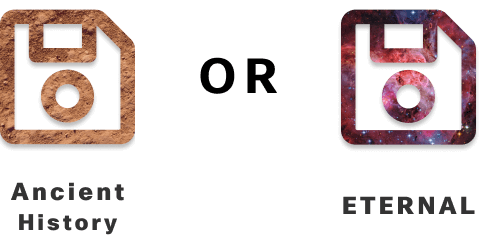 Is it eternal glory, or does it belong in a museum? My vote is for eternal perfection!


You must be a registered user to add a comment. If you've already registered, sign in. Otherwise, register and sign in.