Beginner
Mark as New

Bookmark

Subscribe

Mute

Email to a Friend
SD-WAN BGP community filtering
Hi,
I found only 1000:10000 community, which is one of example as below snapshot, can be filtered with BGP routing policy about the routing redistribution between BGP and OMP in service side.
It's likely unable to filter prefixes with any other community number from my test.
Also, I found the community number(65546000) from BGP neighbour in the service side is not changed even if I try to set different numbers when redistributed the route as below capture.
I'd like to confirm if this is normal.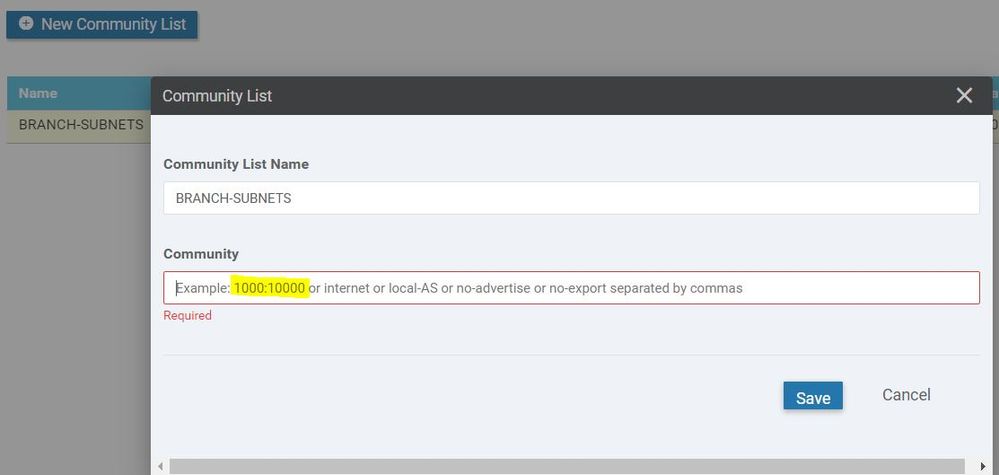 DC-ROUTER#show ip bgp 192.168.40.0
BGP routing table entry for 192.168.40.0/24, version 67
Paths: (2 available, best #2, table default, RIB-failure(17))
Advertised to update-groups:
3
Local, (Received from a RR-client)
12.12.12.12 (metric 2) from 12.12.12.12 (12.12.12.12)
Origin incomplete, metric 1000, localpref 50, valid, internal
Community: 65546000
Extended Community: SoO:0:100 RT:65360:1

Beginner
Mark as New

Bookmark

Subscribe

Mute

Email to a Friend