edited on:

‎05-26-2020

‎01:18 PM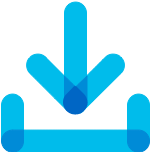 Download
Download the Identity Services Engine Software from software.cisco.com.
Anyone may download the ISO and OVA files of ISE 2.4 or later for evaluation. A valid cisco.com login is required to download the software. An existing ISE support contract may be required to download additional patches or packages.
Once you get your software, please see Getting Started with ISE and other guides and videos in ISE Community Resources! Cisco Employees and Partners wanting ISE for demos and labs should visit Selling ISE: Demos and ISE POV [Partner or Employee access is required].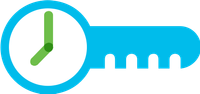 Evaluations
All Licensing options and capabilities including the Evaluation licenses and enforcement are explained in the ISE Licensing Guide. Every new ISE installation - either an ISO or OVA - includes 90-day free evaluation licenses for up to 100 endpoints for all ISE services.
90-day Trial Licenses include Base, Plus, Apex licenses for 100 endpoints plus Device Administration
Trial licenses are activated on every ISE instance upon running '

setup

' from the CLI
Trial licenses may be extended by adding another 90-day evaluation license. See Additional Evaluation Licenses below.
Alarms will not be sent for Trial License expiration notification
After expiration, administrators will be redirected upon login to a license page on cisco.com and will not be able to access their Dashboard or other tools
Additional Evaluation Licenses
If you need to extend your evaluation licenses for >90 days or >100 endpoints then please contact the Cisco Global Licensing Organization (GLO) (licensing@cisco.com) with your UDIs, your license request and justification.
| | |
| --- | --- |
| | Additional licenses cannot be generated without the Unique Device Identifiers (UDIs) for your ISE Administration node(s). Failure to include the ISE PAN primary and secondary will result in delays in getting your licenses. |
Unique Device Identifier (UDI)
Licenses are generated for your ISE installation's Unique Device Identifier (UDI) from your ISE Primary Policy Administration Node (PAN) and optionally the Secondary PAN in the case of a Failover. The UDI consists of :
Product Identifier (PID)
Version Identifier (VID)
Serial Number (SN)
The easiest way to obtain the ISE UDI for the PAN primary and secondary is at the bottom of the ISE page Administration > System > Licensing:

Alternatively, you may use the About menu in the web interface of your ISE Policy Administration Node(s):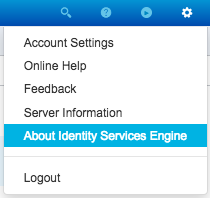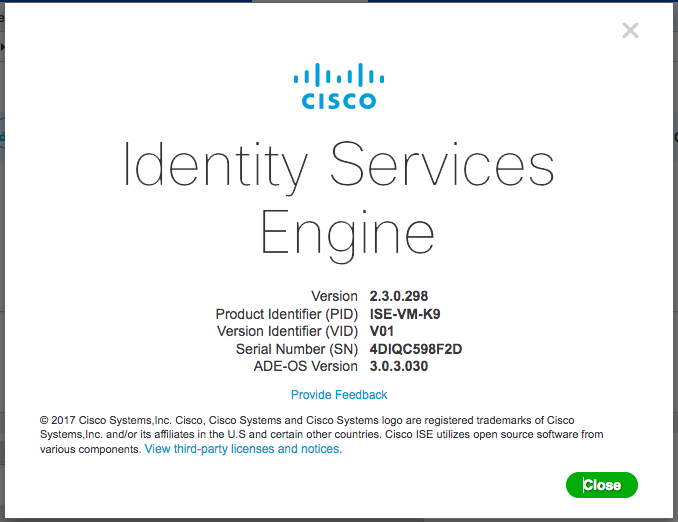 And you may use the show udi CLI command from console of your ISE Administration node(s) :
ise-1/admin# show udi
SPID: ISE-VM-K9
VPID: V01
Serial: 9JQKGRH6K00