edited on:

‎03-08-2019

‎06:43 PM
Episode Information
Episode Name: Episode 23 - The Cisco ASA Services Module

Contributors: David White Jr., Blayne Dreier, Jay Johnston, Magnus Mortensen

Posting Date: October 31, 2011
Description: This episode features discussion about the new Cisco ASA Services Module (ASASM). Topics discussed include the hardware architecture differences between the ASASM and the Firewall Services Module (FWSM), new features introduced with the ASASM, and FWSM to ASASM migration tools and strategies.
Listen Now (MP3 22 MB; 31:22 mins)
Subscribe to the Podcast in iTunes by clicking the image below:
About the Cisco TAC Security Podcast
The Cisco TAC Security Podcast Series is created by Cisco TAC engineers. Each episode provides an in-depth technical discussion of Cisco product security features, with emphasis on troubleshooting.
Complete episode listing and show information
Show Notes
ASA SM Block Diagram
The following image shows a high level block diagram of the ASA Service Module.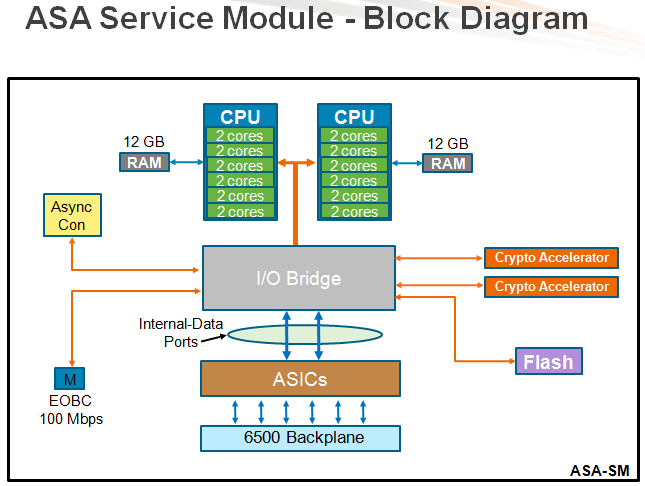 Performance Information
The following performance statistics come from the ASA SM Product Page on cisco.com:
Maximum firewall throughput 20 Gbps
Multiprotocol firewall throughput 16 Gbps
Concurrent connections 10,000,000
Connections per second 300,000
Security contexts 250
VLANs 1000
Features Supported on the FWSM, but NOT on the ASA SM
BGP Stub Routing
Failover Preemption for Active/Standby Failover
Route Health Injection
DHCP Relay Interface Specific Servers
Stateful Failover Uauth Table Replication
Migrating from FWSM to ASA SM
Guide: Migrating to the Cisco ASA Services Module from the FWSM
http://www.cisco.com/en/US/docs/security/asa/migration/fwsm/fwsm2asasm.html
Importent note from the link:
 You must copy the migrated configuration file to the startup configuration
 of the ASA SM. When the ASA SM is subsequently restarted, the startup configuration
 is parsed upon startup. The ASA SM image takes the NAT, ACL, and other commands
 that have been deprecated or changed from the FWSM and translates the commands
 into the commands that the ASA SM accepts.
Useful Documents
The Cisco Catalyst 6500 Series ASA Services Module FAQ:
http://www.cisco.com/en/US/prod/collateral/modules/ps2706/ps11621/qa_c67-662207.html
Release Notes for the Cisco Catalyst 6500 Series ASA Services Module, 8.5(x)
http://www.cisco.com/en/US/docs/security/asa/asa84/release/notes/asarn85.html