Cisco Employee
Mark as New

Mark as Read

Email to a Friend
We are excited to announce the launch of the
Logging Estimator Tool for deployments using Cisco Security Analytics and Logging (CSAL)
Its purpose is to help with sizing storage requirements and network design for customers adopting CSAL by estimating both the cloud logging storage rate per day and the minimum throughput required to emit logs to the Cisco cloud.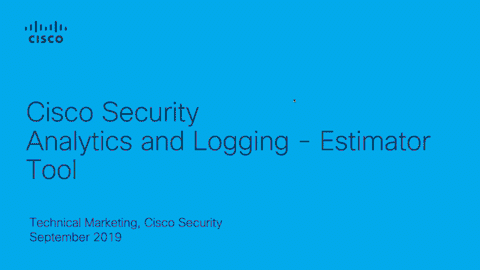 How to Get Started
The tool can be found at https://ngfwpe.cisco.com/ftd-logging-estimator
We also have a quick video going through the tool available at https://www.youtube.com/watch?v=hF5cby_OwQ8.


Cisco Security Analytics and Logging
Raising the bar on network security
Cisco Security Analytics and Logging improves network visibility so you can quickly detect threats in real time and remediate incidents with confidence and at scale. Gain insights from behavioral analytics and get actionable security intelligence to help make your security team more efficient. Enable your network teams now with the power of security analytics.Available now for Cisco Defense Orchestrator managed NGFW devices.
You can read more on Cisco Security and Analytics (CSAL) here.