Highlighted
Beginner
Mark as New

Bookmark

Subscribe

Mute

Email to a Friend
Hi
Which design would be the best ( attached picture A or B ),
What are the demerits and merits or is it the same in all aspects
Thanks
2 ACCEPTED SOLUTIONS
Highlighted
Mark as New

Bookmark

Subscribe

Mute

Email to a Friend
Hi,
What you describe is a pretty standard model for a server with NIC teaming i.e., connecting across a pair of switches for resilience, but I don't see what the traffic flow would be such that your design B would be a better option.
I'm assuming the option B you show is what is sometimes referred to as the U design. So the two left hand leaf switches form a pair, and the two right hand leaf switches form another pair. In the case of your VMware server you'd have one NIC connecting to the upper left leaf switch, and the second NIC connecting to the lower left leaf switch.
The only time I've used this design is when we were connecting switches from different vendors and had incompatible spanning tree implementations. This meant we wanted to remove spanning tree completely and did so by not having any loops. The problem with the approach is one of scale in that as soon as you go beyond a single pair of switches carrying the same VLAN, you introduce a "figure 8" loop, and so spanning tree is again required.
Beyond the physical topology I think we need to understand other aspects of what you're considering and that will help understand which topology is the correct one.
Aside from the physical connectivity, we need to consider the Layer-2 technologies that are supported on the Nexus 9000 series platforms. To have a server using NIC teaming connected across multiple leaf switches you need to present the same VLAN to multiple switches. Doing so obviously introduces Layer-2 loops and so needs some mechanism to break those.
As I see it with the Nexus 9000 you basically have three options:
IEEE 802.1Q trunks using Rapid Spanning Tree to break Layer-2 loops
IEEE 802.1Q trunks using Cisco virtual Port Channel to break Layer-2 loops
Routed trunks (no L2 loops) and using VXLAN to extend L2 across the leaf switches
Option 1 has obviously been around for many years, but has inherent issues. For example broadcast storms if STP breaks, and STP logically blocking links meaning not all provisioned bandwidth is available.
Option 2 has been in widespread use for 5-6 years now and has the advantage over RSTP that there are no logically blocked links and so allows all provisioned bandwidth to be used all the time.
Both options 1 and 2 have issues if you are going to very large scale due to MAC scaling in the switches and the flooding behaviour of bridging.
This is where option 3 comes in. The advantage is that it allows Layer-2 across any number of switches, but does so in a much more scalable manner, especially when used with Multiprotocol BGP and L2 EVPN as the control plane. The downside of this approach is that it's much less mature than the other solutions.
So what would the physical topology look like for each of these? Generally they would connect as follows:
The topologies for option 1 and 2 are considered to be Aggregation-Access type topologies rather than Clos based spine-leaf topologies.
In the top left diagram (RSTP) we have all IEEE 802.1Q trunks carrying all VLANs. For any given VLAN the STP root bridge is placed at the Aggregation layer e.g., the left hand aggregation router, resulting in the access layer switch interface connecting to the right hand aggregation router being in the spanning tree blocking state. The topology uses a very standard design and is well understood.
In the top right diagram we use Cisco virtual Port Channel (vPC). As before all VLANs are carried on all trunks, but as they're now using IEEE 802.3ad Link Aggregation, there's a single logical link between aggregation and access and so no links are blocking. The only change from a physical perspective is the introduction of the link between an access switch pair that is used for the vPC peer link.
The bottom topology is what is commonly referred to as a spine-leaf topology. In this model there are no connections between any of the spines. All leaf switches connect to all spine switches, but there are no connections between leaf switches except for supporting Cisco vPC that I mentioned previously.
These would be my preferred topologies for each of the three options, which is generally some form of adaptation on your design A. As I mentioned above, I've only ever used your option B once, and that was for a very specific use case.
Regards
Highlighted
Mark as New

Bookmark

Subscribe

Mute

Email to a Friend
Hi,
As I described above, the U model is one where a VLAN would be configured on the aggregation routers, access switches and trunks between them, but would not be allowed on the trunk between the aggregation.
Assume we have VLAN 10 and 11 created on the aggregation routers, and then we create VLAN 10 on Acc1/Acc2 and allowed on the blue links, and create VLAN 11 on Acc3/Acc4 and allowed on the gold links. Neither VLAN 10 or 11 is allowed on the red link.
In this example we would have no loops at Layer-2 so spanning tree does not block any links.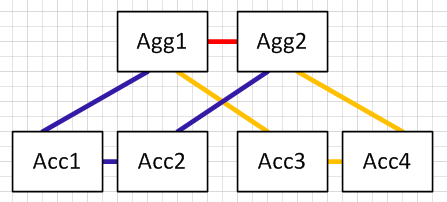 If we need to extend a VLAN beyong a pair of access switches, let's say we want to add VLAN 10 to Acc3 and Acc4, then this is where loops are introduced.
In this case the gold links in the above now become blue as well so we have a "figure 8" loop from Agg1-> Acc1 -> Acc2 -> Agg2 -> Agg4 -> Agg3 and back to Agg1.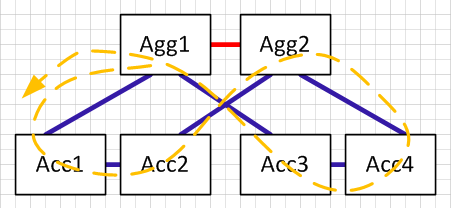 So now we need spanning tree to block one of the links again, so lose the benefit we tried to get from the U model in the first place.
In top right (in your post ) why there is a connection between access switch ?
The three diagrams were reprenting the three technology/feature options that I see you have when using the Nexus 9000, those being spanning tree, vPC and spine-leaf with VXLAN. The top right diagram was showing the physical connections you might have when using Nexus vPC. When using vPC there is a concept called the "vPC peer link" that is needed between the two devices that form the vPC domain, and the link between the access switches was the vPC peer link.
Regards