Contributor
Mark as New

Mark as Read

Bookmark

Subscribe

Email to a Friend
By: Craig Conaway
Mobile Internet For the Masses
Residents and visitors cringe when they consider the infamous traffic congestion faced trying to mobilize even the smallest fraction of Mumbai's 20 million people over poor infrastructure – both on the roads and connecting over legacy networks. We had the distinct pleasure of experiencing this first hand this month, via a Friday evening taxi ride to visit the general manager of a prominent Indian service provider, in Navi Mumbai, starting from Cisco's office in central Mumbai.

This "ride" got us thinking about the power of the mobile internet spreading across such massive metropolitan areas, opening up hope for the masses to get access to an enjoyable journey across Mumbai's Mobile Internet, and maybe offering telecommuting as much greener, and more productive alternative to multi-hour traffic jams. But how to connect the masses to the mobile Internet?

The density of slums in most every sector of the city make it clear that a"fiber to every home" approach wouldn't cut it. But that's OK, because next generation packet microwave helps create coverage "over the top" of almost anything, and in India, microwave accounts for about 90% of the backhaul transport.

And as it happens, the GM we met has been working with vendors that we also work with, including NEC, NSN & Dragonwave, which has just announced their intent to acquire NSN's microwave. So the discussion went rather smoothly, as we began exploring cost-effective methods for "unifying" the mobile backhaul network, using several forms of transport, interconnecting several types of radios, migrating from pure TDM microwave and SDH "rings" to more hybrid and packet microwave, aggregating on Carrier Ethernet rings, wherever we could afford to locate them.

So the journey of laying out a "Unified RAN Backhaul" as a foundation for bringing mobile internet access to the masses in Mumbai begins.. and maybe next year, even if the traffic jams remain notoriously painful, we hope to ease our stress in running late to meetings, with the option to start our meetings"on the road" via Cisco's mobile WebEx…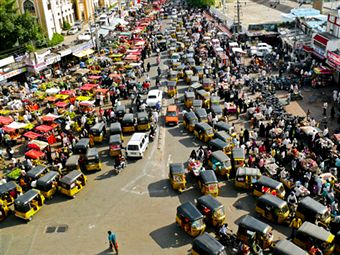 More Resources

Start from the beginning: Cisco RAN Backhaul on the M.O.VE #1: World Tour
Watch a live webcast: Architecting Mobile Backhaul for the Next Generation Internet with presenter Robert Synnestvedt, Mobility Marketing Manager, Cisco. Learn about techniques that are proving to improve profitability of Mobile Backhaul Networks.
Read what others are saying about IP RAN Backhaul for Mobile Networks by viewing a past tweetchat transcript here. Tweetchats are online conversations held at a pre-arranged date/time between a group of Twitter users.
You must be a registered user to add a comment. If you've already registered, sign in. Otherwise, register and sign in.