Contributor
Mark as New

Mark as Read

Bookmark

Subscribe

Email to a Friend
by Andrew Mackay, Manager Mobile Solutions, Cisco Systems
In my last post Bringing LTE Indoors, I discussed the compelling need to address LTE coverage indoors to allow service migration off 3G, particularly for Voice. We know there is a variety of options for MNOs to address indoor coverage, either from outside in with more outdoor sites, or from inside with wider use of Distributed Antenna Systems (DAS), repeaters or Smallcells. The "outdoor in" approach would mean even more BTS sites, but site acquisition challenges and build costs generally mean this is no longer an option in urban areas. Addressing coverage from indoors makes sense, but what is the optimal solution?
I've heard people talking about a "toolbox" approach to indoor coverage, but which tool is right for which job? There is no point using a 6 inch spanner on a 1/4 inch nut, and it's the same with providing coverage and capacity you need an optimal cost solution for the size of the indoor hole to fill.
Cisco has worked with many operators on modelling Total Cost of Ownership (TCO) for various indoor coverage solutions. The results of one recent study are shown below, comparing Distributed Antenna Systems to Smallcells; either installed by the MNO or by the end-user themselves (DIY).
"5-Year TCO study for various indoor coverage solutions"
Obviously this isn't an "Apples for Apples" comparison since the capacities are so different. But even if we normalise by the number of design users, Smallcells show clear TCO per user benefit.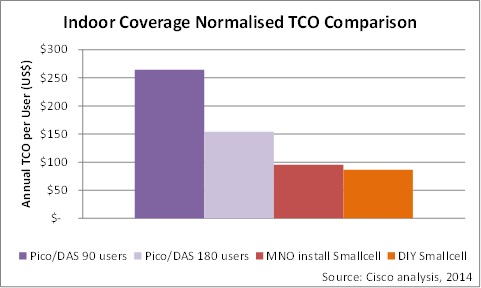 "Normalised TCO per user for various indoor coverage solutions"
The other thing I observed in this study was how much the DAS system TCO improved when a larger number of users are required to be served in a location. I therefore extended the study to look at how the DAS vs Smallcell TCO comparison varied for different sized enterprises.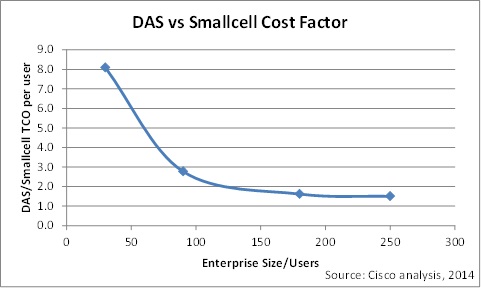 "Comparison of DAS versus Smallcell TCO for various Enterprise sizes"
For small enterprises of <50 people, which represents the majority of businesses, Smallcells are clearly more cost effective. Due to their more modular capacity, re-use of WLAN infrastructure and easier installation Smallcells could be more than 5 times cheaper to own. As the size of the enterprise to cover gets larger, DAS TCO is more comparable, but even for large enterprise (>250 people) Smallcells could still work-out with 50% lower TCO. Such comparisons would vary on a case by case basis, for example often larger enterprise locations are already covered with DAS for 3G which can be reused.
The "toolbox" approach to solving indoor coverage challenges makes sense, but for Small Medium Enterprise locations Smallcells seem to be the right tool for the job.
To learn more about visit our LTE technologies page, check our Twitter feed @CiscoSPMobility or contact Jacqueline Chan (jacqchan@cisco.com) for more information.
You must be a registered user to add a comment. If you've already registered, sign in. Otherwise, register and sign in.