Contributor
Mark as New

Mark as Read

Bookmark

Subscribe

Email to a Friend
By John Horrobin, Marketing Manager, Cisco
When it comes time to deliver full-service IPTV over a cable network, you should know that multicast is your friend.
That was my primary message to the audience attending the "Implementing End-to-end IP Video Solutions" workshop session at the SCTE Cable-Tec Expo 2013 conference. By full-service IPTV, I mean sending all Linear TV and VoD services via the DOCSIS network to an IP set-top box for viewing on the primary TV. Operators who have deployed full-service IPTV with Cisco CMTS gear have achieved significant savings in both CMTS cost and HFC spectrum by using multicast delivery. Based on data taken from commercial IPTV deployments, the savings can range from 50% to nearly 90% depending on service group size and other factors.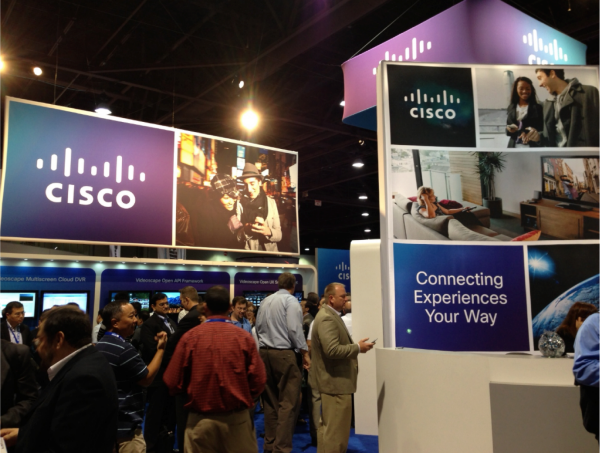 Above: Cisco at SCTE Cable-Tec Expo 2013 conference
As expected, the viewership of Linear TV service in IPTV deployments follows the familiar short vs long tail curve observed in digital TV systems for many years. The data reinforces the notion that cable TV programming is very popular, and subscribers watch in droves during prime time. Multicast delivery is tailor-made for that scenario, providing substantial savings for operators both in CMTS capacity and HFC spectrum. In addition, using static multicast in a "broadcast" architecture can provide peace of mind for operators, since the programming is always available to all subscribers independent of how many subscribers are watching TV or using other services such as Internet access.
Given the interest in cloud DVR among operators, there were questions from the audience about the applicability of multicast in cloud DVR solutions. While multicast can be used to feed the cloud DVR function, the playout from the cloud to the subscriber is unicast, which typically requires much more CMTS capacity and HFC spectrum than multicast. However, in-home DVR can be used in conjunction with cloud DVR to cache the most popular programming, in which case multicast can be utilized on the access network to save CMTS capacity and HFC spectrum.
Channel change latency with multicast was another topic of interest raised by the audience. Even though each channel change requires an interaction between the IPTV client, cable modem, and CMTS, the latency of this interaction is nominal compared to other factors that affect latency, especially GOP size. That said, IPTV solutions can achieve faster channel change times than analog or digital TV solutions by caching a few seconds of each Linear TV stream and bursting that content to the IP set-top box upon channel change so it can fill its decoder buffer and begin playout before switching to the multicast flow.
While only a few operators have actually deployed full-service IPTV to date, several factors are now coming together to spur additional deployments. Consumer demand and competitive pressures are driving operators to deliver more content to more devices. Advanced DOCSIS gateways give operators more choices for delivering the data, voice and video services needed to remain competitive, including being able to offer faster speeds while also taking advantage of multicast efficiencies for linear TV services. And end-to-end IPTV solutions are now available that provide a migration path from existing analog and digital TV solutions to full-service IPTV. With these factors considered, there seemed to be general consensus in this forum that more cable operators will be delivering full-service IPTV by the time we meet again.
More Resources
SCTE Cable-Tec Expo 2013: Workshop Highlights By: Jay Herbert
SCTE 2013: Signal Leakage and Ingress at Higher Frequencies, Understanding the Challenges (Technical Paper Synopsis) By: Ron Hrananc
You must be a registered user to add a comment. If you've already registered, sign in. Otherwise, register and sign in.