Beginner
Mark as New

Mark as Read

Bookmark

Subscribe

Email to a Friend
Mobile operators want $30 smartphones. Is that realistic?
Only half the world's population have their own mobile phone, according to the GSMA, which represents the interests of mobile operators worldwide. It is not surprising then that each year at the Mobile World Congress in Barcelona, the CEOs of leading operators make a clarion call for cheaper handsets. At the 2013 edition in February, Manoj Kohli, CEO of Bharti Airtel, called on device manufacturers to bring down the cost of low-end smartphones to $30.
That is an admirable and desirable target. Cheap smartphones would extend Internet access, improve education, drive economic growth and increase revenues across the mobile ecosystem by enabling many more people to access IP-based services and apps. Smartphones also increase the value of mobile connectivity to people, making mobile operators' networks more valuable.
But the device industry isn't anywhere near hitting Kohli's $30 target, despite some progress. Although the price of smartphones is falling gradually, mobile operators need to put more effort and resources into lobbying governments to lower sales taxes on handsets, while also collecting unwanted smartphones in developed markets and refurbishing them for developing countries. Early adopters in North America and western Europe will be on to their fourth smartphone by now – perhaps two of its predecessors will be in serviceable condition. Used smartphones need to trickle down through the income groups.
Back to basics
At the Congress, Nokia unveiled a €15 ($20) phone, the Nokia 105, with a built-in flashlight and radio. Crucially, for markets where mains electricity is scarce and unreliable, the phone boasts a battery life of more than a month. But the Nokia 105 is no smartphone: It is 2G only, it doesn't have a browser and its colour screen is just 128 pixels by 128 pixels resolution.
Although a $20 handset (taxes permitting) with a long battery life should help extend mobile connectivity to hundreds of millions more people in Africa and developing Asia, it won't bring Internet access to the poor. Unfortunately, touchscreen and 3G technology (partly because of intellectual property costs) are still too expensive to make it commercially viable for device makers to churn out $30 smartphones. Moreover, smartphones simply consume too much electricity to be a viable option in the off-grid shanty towns of the developing world.
Only 19% of Telefonica's 250 million mobile connections, which are spread across Europe and Latin America, had smartphones in the fourth quarter of 2012 (see chart). That suggests that smartphone penetration is in the teens in the middle-income countries of Latin America, underlining the scale of the challenge facing mobile operators in sub-Saharan Africa and south Asia.
Source: Telefonica
The $75 smartphone
Today, low-end smartphones typically cost somewhere between $75 and $150. Here in the UK, you can buy new smartphones running the Android operating system, such as the Orange Sydney, for as little as £50 ($75) on eBay. At the Congress, there was a buzz around low-end smartphones, partly because Mozilla promised that its new Firefox OS will make smartphones more affordable and "meet the diverse needs of the next two billion people online."
Mozilla said Alcatel One Touch, LG, ZTE and Huawei all plan to produce Firefox OS handsets. Mobile operators in developing countries are also enthusiastic. "We're excited to see Firefox OS in the market because this will help bridge the digital divide," said Orlando B. Vea, chief wireless advisor of Smart, a mobile operator in The Philippines. "Its HTML5-based technology will make available affordable mobile devices with an open mobile ecosystem. This is aligned with our inclusive vision of putting mobile Internet in the hands of every customer."
Even with an injection of fresh competition into the smartphone market, a major chunk of the world's mobile phone users are likely to be limited to 2G, voice and text for several years yet. Last year, 122 million so-called basic phones were sold worldwide, according to research firm canalys (see table), which anticipates the industry will still sell 58 million such phones in 2016.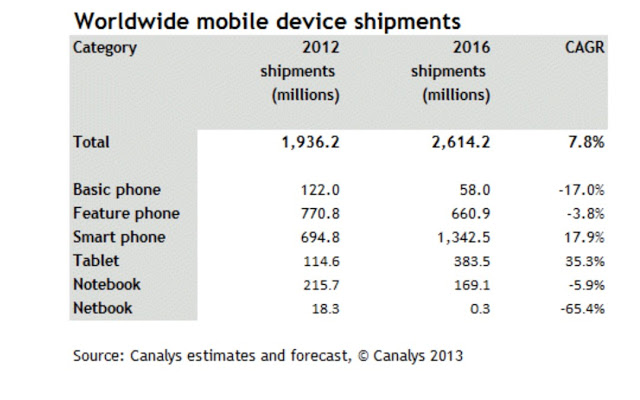 One way to lift smartphone penetration would be to step up recycling and refurbishment schemes. eRecyclingCorps, which refurbishes old handsets and sells them to consumers in developing countries, says it has collected more than 10 million phones since it was founded in 2009. Working in partnership with mobile operators, the firm offers consumers credit in exchange for old handsets in 10,000 retail locations worldwide. Although 10 million handsets over four years is a drop in the ocean in the wider handset market, that figure suggests the model is scalable and sustainable.
At the same time, the mobile industry needs to step up the pressure on governments in Africa, Asia and Latin America to improve electricity provision and cut sales taxes on handsets. You could argue that a mobile phone and Internet access have become essential to modern life and, like food, should be sold tax free.
You must be a registered user to add a comment. If you've already registered, sign in. Otherwise, register and sign in.