Beginner
Mark as New

Mark as Read

Bookmark

Subscribe

Email to a Friend
IMS adoption on LATAM as an option for region development
Is not new that IMS adoption in mobile operators has been postponed since its introduction back in 2006, due to several reasons, two of which I'd like to mention later in this post, the new part, is the fact that it can be considered as a driver for growth and telecom development in a region, Why? Well, because of the increasing amount of international trade agreements and the growing interest of major Internet companies to invest in the region, these factors along with the fact of a resilient economy (just take a look at Brazil) despite the world economic turmoil, are setting a breeding ground for new business requirements that may push operators to speed technology adoption in the quest to differentiate themselves from competition.
Earlier challenges for IMS
As mentioned above there were a myriad of factors that hindered the adoption of IMS, in my opinion two of the most relevant ones were the lack of a killer app for the technology and the lack of someone willing to try and write one! The problem of not having an attractive app, or having one but not being able to provide a solid business case for it, drew away key players for a long time; the industry decision to choose IMS as the alternative to carry voice over LTE, seems to have fallen short to propel the technology towards mass adoption. Additionally, the difference between the telecom world and the internet world when it comes to programming, ended up painting a sad picture for IMS and all of us who wanted to see it in action sooner.
What has been changing?
Contrary to mobile operators, PSTN operators have been adopting IMS or at least SIP to favor VoIP deployment, so this creates a friendly ecosystem in case the expected change comes anytime soon, taking into account that fixed and mobile voice interconnections today are running on top of TDM technology. On the other hand, LTE started to spread around the world and at some point, this technology has to give access to the voice service and potential new multimedia services. Plus, efforts of several research and standardization groups (like OMA) that have been working (and still working) on SDK's and API's to definitely close the gap between Telco and Internet worlds, are providing finally an attractive framework to welcome top of the line programmers that want to create solutions and apps that run on telecommunications infrastructure, but without the need to get deep knowledge of it.
What's going on in LATAM?
LATAM countries (Brazil included) do know about one thing: To endure crisis. That characteristic along with other more important factors have been strengthening their economy (at least so far) despite their well known social, culture and political problems, this scenario has favored foreign governments investments; and free trade agreements are common all over the region, this is a key factor since this treaties impose a huge pressure on South American companies because they need to become highly competitive if they want their products to remain solid in the event of foreign products flooding the local market. On the other side of the table, companies that want to send their products abroad also need an strong IT infrastructure, and they need to deploy it fast. With this picture, the Cloud emerges as an option for companies that need the infrastructure and services to support their operations (with the rights and the wrongs inherent to Cloud), following that line of thinking Broad Band access, mobile and fixed has to increase its penetration, quality and usage. So is clear that carriers could also join the trend and seize the opportunity to add value to their service portfolio, with new apps and services developed on top of their Telco infrastructure and targeted to those companies. Finally, Silicon Valley giants are installing offices in countries of the region (Microsoft and Google to name two of them) creating a tempting panorama that could beneficiate mutual collaboration or temporal associations.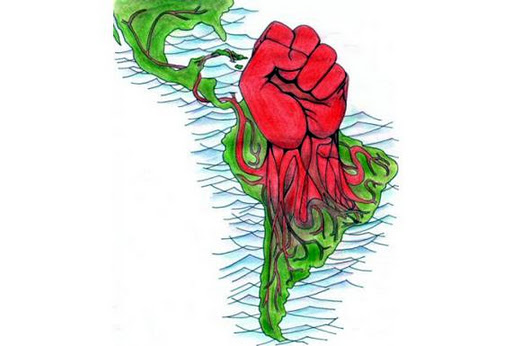 Is it just a big risk and no real opportunity?
As we say in Colombia, usually something that good is not abundant, so what are the biggest challenges for carriers? And I emphasize on them because obviously the key to success for IMS lies in the core of their networks. Well, let me try to name the most relevant ones. ROI for CAPEX executed in legacy equipment will cause operators to be reluctant to invest in new core technology, IMS centralized architecture impose great stress on IPBB due to the great amount of signaling that needs to traverse the network, voice seems to be the last thing on operators service chart in deploying plans for LTE, advance features of 3G are just being introduced by carriers in the region and it's very likely they'll want to capitalize on that investment as well, OPEX due to the existence of two different technologies on the core can be a headache specially if BBIP as mentioned above, is not ready.
So, no opportunity right?, well, that depends on the vision of the future that operators are allowed to have for the LATAM market, carriers do need to expend money on core equipment to cope with the traffic growth, what about expending that same money on IMS ready equipment? and what about if the manufactures make available and accessible IMS upgrades for core legacy equipment already installed? also if we consider the fact that synergies between fixed and mobile carriers are not rare in the region, what about IMS equipment deployed at the border of the interconnection between them, this will lower the expenses of maintaining the current TDM interconnection and will avoid the always troublesome expansion of channels when capacity needs to be added. Collaboration between carriers and key Internet players already present in the region can produce interesting results creating new apps targeted for LATAM companies and their market, the said collaboration can follow the share risk model, also another way of deployment, could be only to support the new apps or services, this option will provide a core ready to deliver voice and multimedia using the coming LTE technology. Mutual collaboration is where the opportunity really lies in, the model will be successful in the extent of the knowledge and willingness each part feels compelled to give.
Finally I think IMS also helps operators to avoid the "dumb pipe" syndrome which I'll talk about in one of my coming posts.
This, is in my opinion how the introduction of IMS can be an opportunity for development in the region; can you think of some other factors that can motivate the introduction of this technology? Or, do you think it's not a good idea to introduce it just yet in LATAM, having into account that usually regional industry adopts technologies once they reach maturity?
A happy 2012 for the industry and all my colleagues.
More Resources
You must be a registered user to add a comment. If you've already registered, sign in. Otherwise, register and sign in.