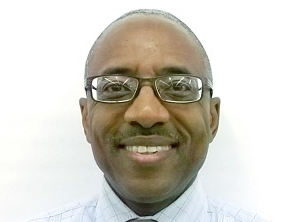 Beginner
Mark as New

Mark as Read

Bookmark

Subscribe

Email to a Friend
The transportation sector is moving forward with Internet of Things), specifically in the area of telematics. ACG Research forecasts that by 2018 the machine to machine and IoT transportation market will reach approximately $19.4 billion/CAGR 33.2 percent, which will corner approximately 20 percent of the worldwide active wireless connected devices.
Telematics was coined by Simon Nora and Alain Minc in "La Documentation Francaise," in 1978. The word is basically from a Greek term describing the process of long-distance transmission of computer-based information. It evolved into automation in automobiles, such as the invention of the emergency warning system for vehicles. The IEEE standard, 802.11p, also referred to as Wireless Access for the Vehicular Environment, is considered the primary standard that addresses and enhances intelligent transportation systems. Today, with the advancements in hardware and software, telematics service providers (TSP) are enhancing the world of telematics.
TSP in Fleet Management
Telematics in fleet management can include a range of functions such as vehicle financing, maintenance, tracking and diagnostics, fuel, health and safety management. These functions allow companies such as rental car services, municipal buses, taxis and trucks to minimize the risks associated with vehicle investment, efficiency, productivity and reducing overall transportation costs. Fleet management functions can either be outsourced or controlled in-house.
Fleet Management
The Association of Equipment Management Professionals (AEMP) was formed in 1982 and represents fleet management professionals who work in construction, government, utilities, energy, mining and all other related industries. In 2008, the AEMP developed the industry's first telematics standard, which has four aspects: (1) telematics data standard that allows end-users to integrate key telematics data (operating hours, location, fuel consumed, and odometer reading where applicable) into their existing fleet management reporting systems; (2) standardize on an application programming interface to integrate the data from each telematics provider into a common formatted database; (3) standardize on electronic control modules; and (4) standardize an XML format to present key data elements that drive the majority of fleet management reports (for example, hours, miles, location, and fuel consumption). This standardization certainly has propelled the telematics market forward and has made it easier for IoT initiatives to flourish. However, there are some risks associated with connect vehicles that should be considered.
Access Security
Daniel Bilar, from the IQT Quarterly, TSPs' issues into "attack surfaces" from the vehicle-to-infrastructure networks and to the internal vehicle networks, such as FlexRay, MOST, LIN and CAN networks that connect to the electronic control units (ECUs) in vehicles. Some ECUs can be accessed remotely via cellular radio, some over shorter ranges, such as Bluetooth, and some require physical access such as On Board Diagnostics-II (ODB-II) or an iPod. These internal networks are usually connected by a gateway and like any network can be hacked.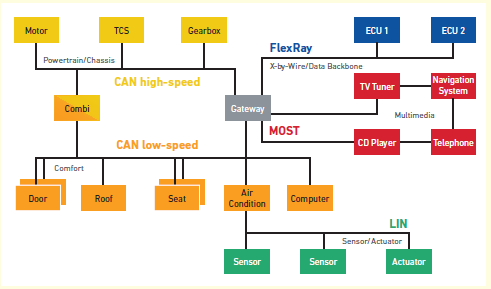 Figure 1: Vehicle Network: CAN, FlexRay, MOST, and LIN Networks Interconnected by a Gateway
Some of the access vulnerabilities in vehicles that IoT will need to address: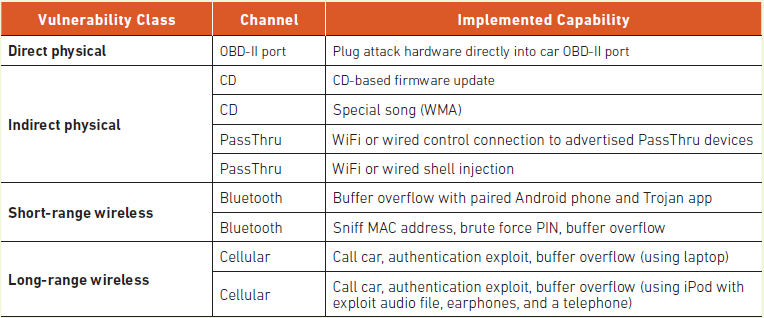 TSP Use Cases
Nebula Systems (http://www.nebulasystems.com/), which has embraced the AEMP standards and connected car concepts, has developed a mechanics diagnostics platform in the cloud called MECH 5 (https://www.youtube.com/watch?v=rc1r156Ulgk). MECH 5 offers complete vehicle data bus access with all ECUs, from engines to body controllers to (ABS) brakes and instrument clusters. They provide full diagnostic functionality from within those ECUs, such as error code read/erase, live data, activation of components and programming of those components. The company offers other companies hardware VCIs: telematics GSM embedded devices, ELM327 OBD or J3534 pass-through devices. MECH 5 is HTML based so it can be accessed on any web connected device with any operating system. This is very attractive for third-party IoT application developers. MECH 5 is unique in that, according to Nebula, no other telematics or diagnostic company offers complete vehicle access via the cloud. Nebula Systems' use cases deploying their solution sets:
Telematics companies and fleet clients: AEMP has standards-based metrics that can be obtained by MECH 5, such as actual fuel levels, odometer values from instrument cluster, for more accurate efficiency targeting. Fleet companies also like the idea of performing full remote diagnostics on their vehicles especially for mission critical ones such as ambulances or cargo rigs.

Fleet operators: Duty of care may soon require fleet operators to provide evidence of internal health of their vehicles. MECH5 can provide full global ECU reports at any time interval required, wherever the vehicle is located.

User-based insurance: Many insurance authorities want accurate odometer readings, not those based on GPS calculations. One application of this function is a reduction of premiums if error- free ECUs are reported at time of vehicle incidents.


Roadside recovery: With complete vehicle ECU coverage for diagnostics and remote access, roadside recovery companies would be able to give their operators a complete condition of the vehicle before they even see it. This will be great for pay as you drive insurance companies.
Crash data analysis: Provision of vehicle fault codes at the time of incident along with other live data parameters from engine to ABS. For example, wheel speed at each wheel, RPM, Speedometer, etc.


Big data acquisition: Many third-party companies want to leverage vehicle data via the cloud. Nebula Systems' offering, apart from OEM systems, is the only one that can supply any data stream from any part of the car. Thus, new consumption models and value added customer offerings can be created and offered by the TSPs.
Nebula Systems' solution can be sold either as a public or private platform as a service.
You must be a registered user to add a comment. If you've already registered, sign in. Otherwise, register and sign in.