Contributor
Mark as New

Mark as Read

Bookmark

Subscribe

Email to a Friend
WBA Wi-Fi Global Congress was held in San Francisco at the Grand Hyatt November 6-8. Cisco's presence included:
Keynote: Harnessing the Wi-Fi Opportunity with Kelly Ahuja (Cisco, Senior Vice President, General Manager, Mobile Internet Technology Group)
Panel Discussion: Developing and Monetizing Your Network Through Partnerships with Stuart Taylor (Cisco, Managing Director, IBSG, Service Provider Practice)
Extended Session: Deploying the Next Generation of Hotspots with Mark Grayson (Cisco)
Kelly Ahuja's keynote focused on monetizing mobile networks in a way where we can look at Wi-Fi to do "all of the above" – how to leverage the infrastructure to make money out of it. He dived deeper into the business innovation side of Wi-Fi, recognizing there is a lot of potential opportunity ahead of us, new business opportunities. For example, looking at the level of personalization and the ways to personalize the experience and make it more immersive; such as utilizing location analytics. This topic of location analytics led into the possibilities of partnering with retailers. He closed his keynote noting that "as users of mobility, we must bridge the world of cellular and Wi-Fi together". Wi-Fi has come a long way as an industry he stated and we must now take mobility not as an infrastructure but as a platform for business innovation.
Above: Watch Cisco's Murali Nemani share his thoughts on Wi-Fi's shift to a business innovation platform at WBA Wi-Fi Global Congress 2012
Atop of Kelly Ahuja's keynote, there was also the panel Developing and Monetizing Your Network Through Partnerships with Cisco's Stuart Taylor. Taylor was there to talk about how to make money from Wi-Fi. He mentioned some of his key findings from a Cisco IBSG survey of U.S. mobile users and talked about two big focuses: 1. Turn Reduction and 2. Offload. He then elaborated on taking the value of location, mapping and advertising and combining these with customer information – to look at these opportunities. It is important to look at value add services he mentioned. Taylor made some great comments stating that customer expectations are rising – people expect Wi-Fi at cafes, public places, etc. but now are expecting higher quality. For example, hotels: Wi-Fi is a big part of them but now it is about having great Wi-Fi there. He then discussed how, from a research finding, there is a low interest in advertising because people are afraid of privacy and security but when asked if, in particular, it were to be a shopping experience and they were given, for example, a coupon or an ad with an offer that was more relevant to where they were there was very high interest and lower concerns of privacy. He ended this topic noting that if you give people an ad in context of where they are, an ad tying in with customer information, there is that value.
The Wireless Broadband Alliance (WBA), also announced the winners of the inaugural Wi-Fi Industry Awards 2012. The awards recognize outstanding achievement by operators and vendors within the Wi-Fi industry and were presented at a gala awards dinner and networking event at Wi-Fi Global Congress. Cisco is honored to be awarded the "Best Next Generation Hotspot Initiative" and "Best Wi-Fi Technology Innovation" Awards by the WBA Alliance and we send out congratulations to all the other Wi-Fi Industry Awards 2012 winners.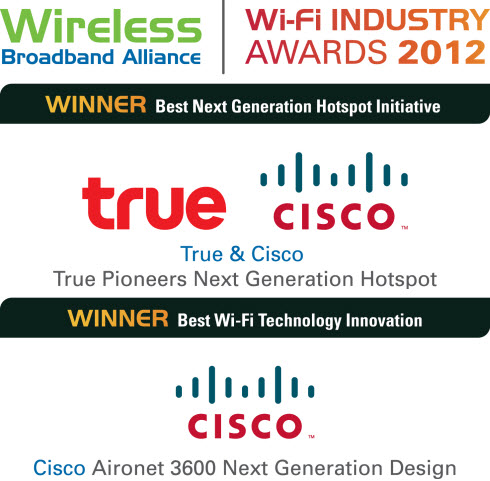 Register now to learn about new Wi-Fi technology on November 15.
More Resources
Check out photos of Cisco's presence at WBA Wi-Fi Global Congress: Facebook Photo Album
WBA Wi-Fi Industry Report 2012 – Download Here
Register for a November 27 CKN Webcast: Use Wi-Fi as a Platform for Business Innovation and Revenue Generation
SP360 Blog: The Wi-Fi World Comes to San Francisco
You must be a registered user to add a comment. If you've already registered, sign in. Otherwise, register and sign in.