Contributor
Mark as New

Mark as Read

Bookmark

Subscribe

Email to a Friend
Written By: Kiran Matty, Marketing Manager (SP Marketing - Mobility Solutions, Cisco)
Have you ever seen a relevant ad on your mobile device? I for one haven't had any luck with that yet. Just to level set, I am not talking about mobile search Ads where a consumer's purchase intention is determined fairly accurately by sophisticated search algorithms like Google Search. This segment of the market is forecasted to account for 50% of the mobile Ad spent by 2016. The focus of this article is the non-search related mobile Display Ads, a multi-billion dollar nut that hasn't been fully cracked yet.
According to IDC, the mobile Advertising market is projected to be $20.5B (worldwide) by 2016 with a CAGR of 32.8%, and the display Ad market is projected to be $6.2B (worldwide) in the same timeframe. People are increasingly spending more time on smartphones and tablets, about 158 minutes per day according to an article that appeared in Venture Beat.
But the Path to $$$ might not be as rosy as it seems
You'd expect Mobile Ads to command higher CPM, a metric that's commonly used to price mobile Ads, than other Ad types. An article in the Bloomberg Businessweek has captured the reason pretty well, "smartphones are always with us, know where we are, and collect far more data about us than a desktop PC". Not to mention, they are actionable because of proximity to the advertiser in the case of location based Advertising. But, you'd be very disappointed to see that that's not the case as seen in the below chart. As for me, I was expecting to see the Mobile CPM to match that of highly targeted Cable. Further, Mary Meeker's 2013 report on Internet Trends shows that the Mobile Advertising spend is not keeping pace with the amount of time people spend on their mobile phones, and is lagging the spend for other Ad types by a significant margin.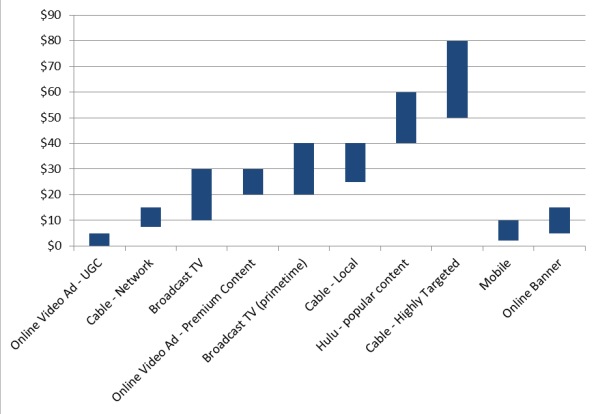 Source: Cisco Internal Anaylsis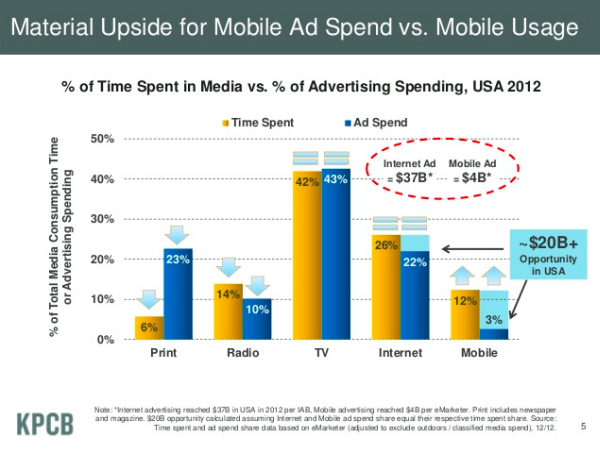 So, what's impeding the flow of advertising dollars?
Small size of mobile screen and the lousy extension of the desktop Ad inventory to mobile could explain that to a certain degree. However, in my opinion, lack of "contextual relevance" is what's making Mobile Ads miss the mark with the subscribers. This can be attributed to:
Internet Cookies, which are extensively used for behavioral tracking on the desktop, are not supported on majority of the mobile devices. However, iOS and Android do support device IDs for tracking, but again that solution is not universal due to device fragmentation.
The commonly used Mobile Ad targeting technique based on Mobile IP fails to provide the granularity that is required for hyper targeting. Hyper-targeting can lead to a 2.4x increase in mobile advertising revenue potential according to a Cisco Internal analysis.
Although GPS provides the most accurate tracking, it might not be ON all the time due to battery drain caused by periodic app updates. On the other hand, a cellular network knows your location all the time, albeit not as accurately as GPS.
Data in Motion provides contextual awareness
Before we delve into the nuts and bolts of Data in Motion, lets go through an interesting use case that was showcased by Cisco at the Mobile World Congress 2013. A city could be divided into Ad Geo-fences (a virtual boundary that's created programmatically to take actions based on policies that are set by the Advertiser) so that Ads that are pushed to a digital signage on the side of the bus are contextualized based on the geo-location. For e.g. an ad showing a low interest-rate student loan or a value meal at a local Italian restaurant would engage more eyeballs in a university area, whereas an Ad showing an offer from Saks Fifth Avenue would work the same magic in the financial district of the city. If you throw QR codes into the mix, the Ads become actionable. Moreover, an Ad Network could use network congestion analytics provided a network operator to serve up rich media Ads, which have higher CPM, if the network is not congested.
Network data, Policy, and Analytics interplay in a multitude of ways to add contextual relevance and personalization to mobile Ads. Rest assured! I am not going to break out into a "Big Data" song. On the contrary, I am talking about the wealth of data that resides in a Mobile Operator's network and has been grossly untapped thus far. It can be mined with minimal latency to create a context vis-à-vis location, proximity, media and browsing behavior, etc. and is mostly "real-time". Once the context is established, targeted advertising fits in very organically. Out of the several data points that a mobile network could expose via API, a few that are pertinent to targeted advertising are past internet activity and app usage data, subscriber info (gender, zip code, data plan, data quota), viewing behavior, device type, location (IP address and cellular location,), and more. What further differentiates these data points is that they are OS, browser, and device agnostic. These data points can be very potent when combined and correlated in conjunction with subscriber and network level Policies, and Analytics in real or near-real time through a highly Programmable Network. That's not all! One could mash-up this data with other unstructured data such as Twitter Feeds, Facebook posts, and structured data such as Google Maps, 3rd party data from credit reporting agencies such as Experian, In-Store data to create valuable insights and compelling applications. This is what underpins Data in Motion and is something that can differentiate a mobile operator in the crowded "Big Data" space.
Mobile Operator Strategies to capitalize on the Data in Motion opportunity
Privacy concerns

are rife in this space, just like any other big ideas related to "Big Data". Anonymization and in some cases Aggregation of network data is very critical to allay those concerns. Further, an operator's relationship with its customers is very valuable; hence opt-in and opt-out mechanisms should be put in place for marketing programs.
The data provided by an Operator is limited to the operator's subscriber base and their geographic footprint, which might not scale well for certain Ad campaigns that need a wider reach. A business model around Federated Data, something similar to

Weve ( a

joint venture between the UK's three largest mobile network operators (MNOs) – EE, Telefonica UK (O2) and Vodafone UK covering 80% of the UK's mobile customers)

would help address this issue.

An operator who would like to see their mobile network transform into a service innovation platform would have to garner the support of the wider developer community. The rise of Android and iOS application ecosystem has taught us the existence of a virtuous cycle:
More Developers --> More Services --> More Subscribers --> More Advertisers --> More $$ --> More Developers , and so on. Hence, an operator not only needs to expose the capabilities of its network via APIs, but also enable a strong developer ecosystem through developer programs similar to AT&T's
Operators should lead with a few compelling use cases around Data in Motion such as

Sponsored Data

, Advertising Geo-fencing, etc.
Cisco Quantum™ enables Data in Motion
In conclusion, adding contextual relevance to mobile Ads through Data in Motion would significantly boost the CPM of those Ads. Our analysis indicates that targeted mobile Ads have 2.4x higher CPMs than non-targeted Ads. Above all, engagement rates would go up materially leading to higher Ad spend for Mobile. With Cisco Quantum™, which consists of best of breed Policy, Analytics, and Network Abstraction Suite, Cisco is well positioned to enable a Mobile Operator quickly monetize their network assets by becoming a valued partner in high growth value chains such as Mobile Advertising.
You must be a registered user to add a comment. If you've already registered, sign in. Otherwise, register and sign in.