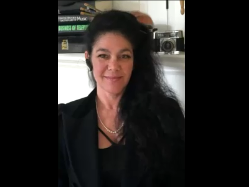 Beginner
Mark as New

Mark as Read

Bookmark

Subscribe

Email to a Friend
1. How long have you been in Telecom? What excites you the most about mobility? What disappoints you the most about mobility?
I have been in telecom production since 2005. What excites me the most is the creativity and connection that comes from this screen. I view the platform as its own venue with its own production needs and its own audience. It is the fourth screen; the first is the film screen, the second is the television, the third is the computer, and the fourth is the mobile – tablet or phone. The mobile has its own needs for telling a story and engaging the audience whether it is for entertainment or an advertising agency for marketing a product, or for the benefit of connecting people with information as an addendum screen. Mobile, anytime, anywhere, one viewer at a time; yeah, it's personal, it's emotional, it's an extension of one's existence.
2. In your opinion, what are the key market drivers, opportunities, and challenges for Service Providers?
I believe that the key market driver is the audience, plain and simple; their needs and their balance of self and lifestyle will encourage innovation and their acceptance will allow the necessary uptake. Key audience drivers include utilization as a personal device; a value-added screen for video; and addendum information platform for various industries such as entertainment, educational, healthcare, personal lifestyle, mobile payment, retail, banking, marketing, communication, finance, business, government, etc. via sms and video. Mobile's key driver will be through audience needs, balance and ease of access and simplicity of operation.
As far as opportunity, if you can dream it, think it through, find the value-added gap in the market, then it is possible and plausible. It's an exciting, opportunistic time for creatives in a new venue, as transmedia entertainment and marketing, and connected home for information and value to lifestyle. The challenge for service providers is to understand how to harness the power and the audience whilst keeping ahead and on top of the expectations of the audience and being able to deliver a steady dose and satisfying audience needs and wants.
3. Where do you think mobility will be in 5-10 years from now?
I believe that the future of the mobile industry will be in finding value and balance within each person's daily life, at home and away from home; including personal, social, communication, connected home, connected tv, smart appliance connectivity and delivery of information. I believe we are living in the sunrise of the future, and all that we see now will have uptake and become commonplace.
More from Nora Goodman
You must be a registered user to add a comment. If you've already registered, sign in. Otherwise, register and sign in.