Cisco Employee
Mark as New

Mark as Read

Bookmark

Subscribe

Email to a Friend
Hi Folks, Hitesh Kumar (CCIE SP #38757) and myself Rahul Rammanohar CCIE (R&S, SP #13015) work for the High Touch Technical Support (HTTS) team here at Cisco. Our team provides reactive technical support to majority of Cisco's premium customers. We have created the following video that includes packet capture capabilities across multiple Cisco routers and switches. For each product, we start off by talking about the theory of the capability, followed by an explanation of the commands and finally a Demo on real devices.
We will take your questions and follow up on this video with an 'Ask The Expert' event soon, look forward to seeing you there.
Agenda with the timestamp when each of the packet capture capability begins.
00:00

- Introduction

01:20

- 7600/6500 - Mini Protocol Analyzer (MPA)

08:39

- 7600/6500 - ELAM

15:30

- 7600/6500 - Netdr

19:38

- ASR9k - Network Processor Capture

28:00

- 7200/ISRs - Embedded Packet Capture

34:55

- Nexus 7K, 5K and 3K - Ethanalyzer

43:42

- Nexus 7K - ELAM

52:37

- CRS - Show Captured Packets

56:45

- ASR1K - Embedded Packet Capture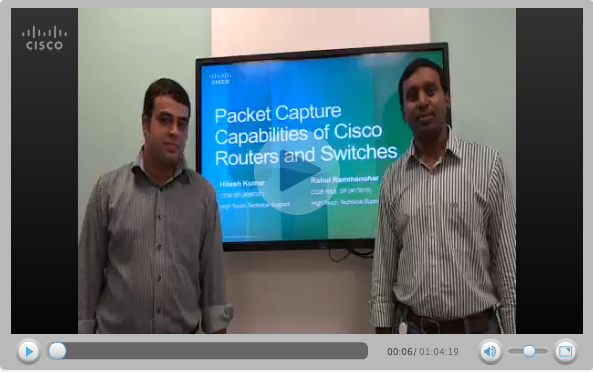 Thanks for watching our video, feel free to post your questions, comments and feedback below.
2 Comments
You must be a registered user to add a comment. If you've already registered, sign in. Otherwise, register and sign in.