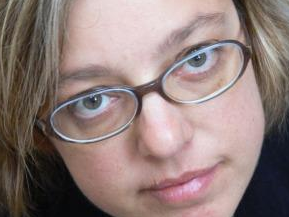 Beginner
Mark as New

Mark as Read

Bookmark

Subscribe

Email to a Friend
Above: Monica Paolini, President Senza Fili Consulting interviews Craig Conaway, Global Mobile Backhaul Sales Lead, at Small Cell World Summit in London
In the last few months, I have spent a lot of time researching and pondering on what had changed in the small cell backhaul market over the last year. In my first report on the topic a year ago, I mostly looked at the business case challenges and technology options for backhaul in small cell deployments. It turns out that backhaul is a crucial element in the small-cell business model – substantially more important than it is in macro cell deployments – and that multiple technologies have to coexist side-by-side within the same deployment to meet the mobile operator requirements.
While the importance of backhaul in the business case and the need for multiple solutions has stayed the same, the vendor landscape has significantly evolved over the last year. Initially, some vendors tried to reposition their existing products for macro cell backhaul to the small cell market, but this approach delivered solutions that do not meet the operators' requirements. Other vendors had solutions that were not ready for large deployments, did not scale, or where too expensive and too difficult to deploy and maintain.
In the last year, there has been a significant shift from the vendor community in trying to address the specific requirements of mobile operators. Small-cell backhaul is much more challenging than macro cell backhaul. Equipment has to be smaller, cheaper, and easier to install and manage, but at the same time it has to provide high capacity and high reliability. Most vendors – tier-1s, niche vendors, startups – have tried to address his challenges, and have come up with an interesting array of solutions and novel approaches. As a result, the new report focuses on the evolution of vendor market in small-cell backhaul.
The list of confirmed trends and emerging ones that we have identified is shown in the table below and discussed in the report. Here, I wanted to add some comments and get your feedback on what these trends mean for the vendor community and for the vendor selection process for mobile operators.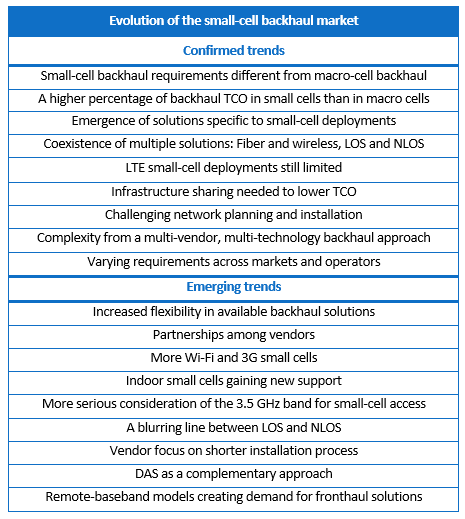 With the introduction of LTE and IP-based mobile networks, mobile operators have shown in new eagerness to have multiple vendors present side-by-side in their networks. Not only mobile operators want different vendors in different markets. They also want different vendors within the same market, for the same type of equipment. This has been for a long time the case in markets like Japan, where multiple base station vendors operated in the same footprint. Increasingly, mobile operators want to adopt this model and small-cell backhaul is an area where this approach is needed because no single vendor is likely to have a wide enough portfolio of solutions to meet the requirements of a large small-cell deployment. In this perspective, small-cell backhaul –alongside with small-cell equipment, for similar reasons – may provide a testing ground for a new approach in vendor selection.
The coexistence of multiple vendors for small-cell backhaul poses interesting challenges. Different solutions come with different requirements – line-of-sight versus non-line-of-sight, for instance – and different performance characteristics – e.g., capacity, latency and reliability. Not only operators have to decide which solution to install at a given small-cell site, they also have to manage a complex backhaul system within a HetNet that requires a very tight latency to coordinate transmission and manage interference.
How will operators decide to move forward? Will they opt for keeping complexity at a minimum, selecting only one or two vendors for backhaul even though this will somewhat limit the performance capabilities of the network? Or will they be ready to face the additional complexity that comes from the performance-optimized backhaul system with multiple vendors? As it is often the case, the answer is most likely to fall in the middle, with some operators more willing to accept the risks of complexity and others more protective of the stability of the networks.
But, in addition to this, what may change the operators attitudes is the confidence that different solutions and different vendors can be managed within a single platform. This is an area in which we have seen interesting activity among vendors. Cisco's announcement of a partnership with multiple wireless small-cell backhaul vendors to strengthen the emerging small-cell ecosystem is a move in this direction. We have also seen small vendors working more closely with each other to offer mobile operators to locate of solutions for the backhaul needs. As expected, most of this activity comes from specialized medical vendors and startups, which face a tougher challenge to be selected by mobile operators than tier-1 vendors. But tier-1 vendors have also shown a deeper interest in working with the startups to widen their solution portfolio.
At the same time, the number of small-cell backhaul vendors – either established ones or startups – has quickly grown over last year, increasing the level of competition in the market that is still limited in size and remain so for the next couple of years.
Will the combination of these two factors – trend towards multivendor networks, and too many vendors – result in more aggressive consolidation among vendors, or lead to a new approach in vendor selection with mobile operators more willing to buy equipment from smaller and more nimble vendors?
More on small-cell backhaul:
Download the full report by Senza Fili Consulting
Conversation with Ed Chang, VP Product Management, and Eric Vallone, Senior Manager, Product Management, Cisco
Video of conversation with Craig Conaway, Global Mobile Backhaul Sales Lead, Cisco
Small-cell backhaul vendor solutions: the evolving competitive landscape. Presentation (slides and audio). Singapore, May 29, 2013.
Small-cell backhaul market update - what has changed and what has stayed the same, FierceBroadband Wireless
You must be a registered user to add a comment. If you've already registered, sign in. Otherwise, register and sign in.