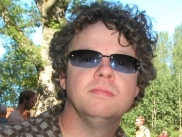 Beginner
Mark as New

Mark as Read

Bookmark

Subscribe

Email to a Friend
Mobile Mondays in Beijing is normally not a big thing for me and given that I have to spend an hour to go to the events in Orange Labs in Zhongguangcun, I have not been to a single event yet. When we Trolltech, we participated in an event but as I was traveling, two of my colleagues participated.
However, yesterday is was an interesting topic and a lot of people: Mobile Applications Stores for China and Orange Labs/+8* had an interesting panel:
- Wang XIaodong, Aspire (ASP to China Mobile for Mmarket)
- Yang Zhi (?)(Vice Director, China Telecom Research Institute)
- Danny Huang (Orange Open Source Lab)
- Max Hu (SonyEricsson)
- Wang Bo (CEO Bokan)
and from Nokia, Fan Tianxin, biz dev manager at Forum Nokia, was there to defend the Ovi Store.
Unsurpringsly, most of the event was centered about Apple's success with iPhone and the AppStore or as Danny Huang called it, the APPleStore. But one of the guys made some weird statements about that the Appstore is far from good, which was a bit weird. He probably meant that there are still room for improvements and his main point was that the social networking element of Appstores were missing. I think I have seen some blogs hinting at the next gen iTunes/AppStore will feature far more of the social networking capabilities.
The whole event should have been held in Chinese instead of English as most of the panelists were really uncomfortable in english and a lot of interesting facts/discussions were lost in translation.
My favorite conclusion though was based on Bokan's comment about all upcoming Shanzhai Android phones (not OPhones) and that there should be one independent appstore. Instead, i draw the conclusion together with Markus (ex-colleague) that that would be the Open Shanzhai Appstore - all apps for free! And it is actually possible given that the Android Java apps can be cheated to decompile and reveal full source alas easy to create a Shanzhai appstore..
This is actually quite a vital thing. Shanzhai phones are gray-market phones traditionally built on Mediatek's chipsets with a full reference implementation for the chinese market (and for others) where a small 10-people company can basically build their own phone and ship in retail and avoid all taxes and IPRs and therefore sell at a discounted price compared to traditional OEMs like ZTE, Huawei, Nokia and Samsung.
There is a lot of activities from these players to trying to build and ship Android devices and they definitely have an incentive of trying to decouple any official or unofficial Android marketplace and distribute freely (and that may actually happen) - thus the headline: The Open Shanzhai Appstore
You must be a registered user to add a comment. If you've already registered, sign in. Otherwise, register and sign in.