Beginner
Mark as New

Mark as Read

Bookmark

Subscribe

Email to a Friend
I just read on a social media website that a friend of mine was taking off to London for a series of meetings. She is a brilliant, savvy, junior executive at a large technology organization who lives with her family in Connecticut in the US. It made me think (again) about business travel. I understand when she posts about a great article she just read or when she's had a fun experience with her family, but why would she post a note letting her colleagues and acquaintances know she has flown overseas as opposed to using collaboration technology to avoid the trip?
I'm also a frequent business traveler and have been for a very long time. I'm a "million-miler" on one airline and just under that on another. I "check-in" on social media from every airport I take-off from and land at. Instead of boasting about my business travel, shouldn't I be ashamed that I'm wasting all that time and producing all those carbon emissions instead of popping into a telepresence room - especially considering that I'm a collaboration technology expert and evangelist?

Dilbert's Take on Business Travel vs. Video
There are of course legitimate reasons my friend and I and countless others announce our business travel on social media.
In a world where a geographically dispersed workforce is the norm there aren't always "water-cooler moments" to tell colleagues we're going to be out of the office or heading to a conference. Social media has replaced that water cooler for many of us.

We may be landing in a city where we have colleagues or friends that didn't know we were headed there. Sometimes they will see the announcement and reach out to get together. Other times it is just a good reminder to colleagues and friends that we'll be away for a bit.

In a post 9-11 world, our families and friends still get a sense of comfort that we made it where we were going.
In addition of course, if we're being really honest, in the back of many minds business travel is still considered a glamorous perk. "Look at me! I'm so important that my company is sending me to London." This is sadly a dated perception for the real road warriors. A business trip from New York to London is usually nothing short of awful. One has to fight the traffic to the airport hours earlier than the flight, fight the crowds to get to security, get poked and prodded by security agents that are there because they couldn't get a better job, fight the crowds onto the airplane, fight for a space for your carry-on, squeeze into a seat and fight for the use of the arm rest, stand on an immigration queue for an hour or more, etc. Elite status, business-class travel, airport clubs and other similar perks - when you can get them - do help make the ordeal a bit more bearable, but they don't come close to making it an experience anyone would want to have unless they really had to go on the trip.
So why aren't we - especially those of us that are technology savvy - using video and Telepresence instead of taking those trips?
The truth is videoconferencing doesn't replace business travel. That is a decades-old myth used by video salespeople to convince customers that there is some ROI associated with a tool that historically has not been very good at documenting value metrics. My friend had to be in London for a multi-day seminar. Collaboration technology can't replace any part of that experience – not the content delivery, not the participation, not the networking with peers. My last trip to Washington was to meet an interdisciplinary team at a client's office. The varied participants would not have come together unless my visit served as the catalyst.
The immense value of visual collaboration technology comes in other ways.
Participation in meetings one would never have traveled to - Examples include the last "virtual lunch catch-up" I participated in with my firm's US based collaboration team. There was never a potential plan to fly to the same city for all of us to catch-up over lunch. The meeting just wouldn't have happened without video.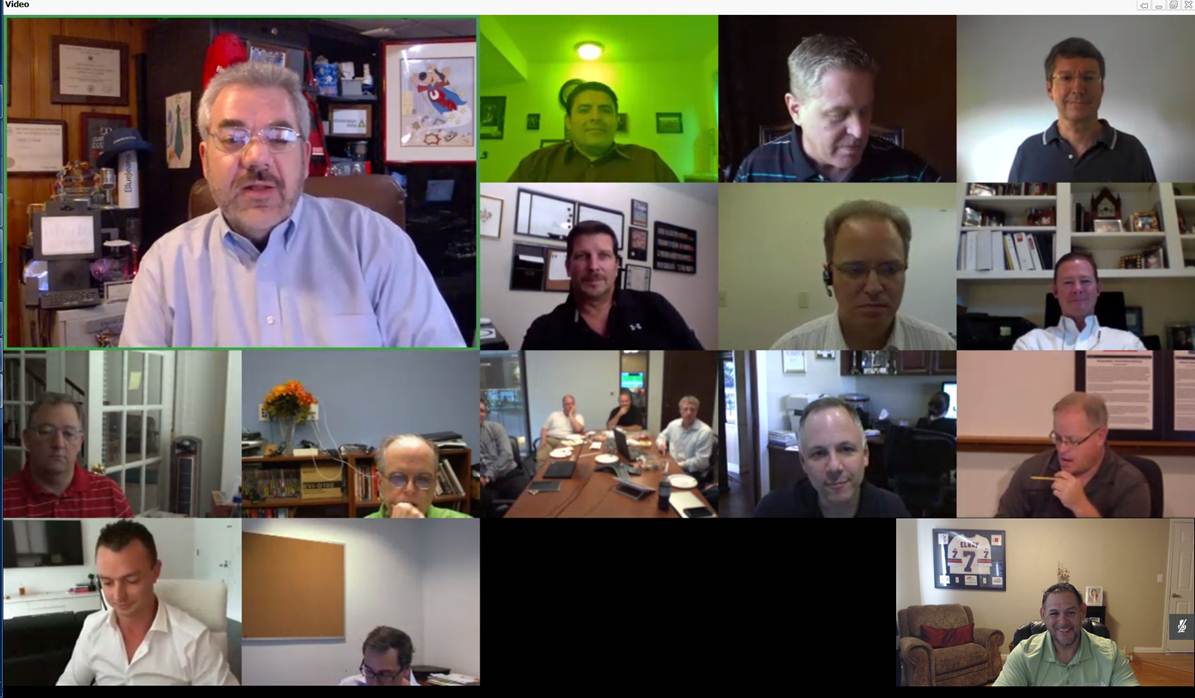 Dimension Data Americas Collaboration Team Virtual Lunch
Elimination of unproductive audio conference calls

– So many people multitask during the typical audio conference that we have all come to forgive the participant that asks "what was the question again" when they hear their name and it brings them back to a conversation they weren't paying attention to.

Visual feedback – On a video conference (when appropriate technology is used) presenters can clearly see the faces of the remote participants. One can see if they're buying-into the key points…if they look skeptical, tentative or disinterested…if the presenter should slow-down, speed-up or pause and ask for feedback - all not possible on audio conference calls, and all available during video meetings where travel just wouldn't have been considered.
And then, with recent improvements in collaboration technology, there is the tremendous benefit of Smarter Working. Instead of constructing or renting an office building where everyone has their own office, cube or desk, knowledge workers can work remotely from home and only head into the office when absolutely necessary. When they do go into the office they can use shared spaces – hoteling desks and conference rooms in an open plan layout. Finally there is solid ROI for video that doesn't rely on the myth of replacing business travel. This begins with the real savings in office costs by using smaller footprints, less power, less air-conditioning, less bandwidth and port density, etc. Then there's the savings in commuting costs for the daily trip to the office and back. At an extremely conservative estimate of $20 US per day times two days per week and fifty weeks per year that's two grand a year back in the employees' pocket. This doesn't even begin to address the savings in carbon emissions or increase in productivity when an average two and a half hours of commuting time goes back into the calendar as useable time. The exponential increase in remote employees is changing the economics of various spaces including those of office management, home broadband, commuting, recruiting and many others.
The part of remote employees and Smarter Working that is often cited as a negative though is the lack of spontaneous interaction one might get in an office. Skeptics point to the loss of the brief water cooler conversation or elevator chat that happens naturally in an office. They ask "how can one possibly replace that spontaneous interaction?" Would that be spontaneous interaction like finding out that my colleague has read a great article, had a fun family adventure or has landed in London for a conference? Well of course, as I illustrated at the beginning, social media effectively fills that role – with organizational centric platforms for the business side and public social media platforms for the family adventures – complete with pictures.
So the next time you see a Twitter post from me pointing out a good article or new technology announcement go get yourself a drink of water and give yourself the twenty bucks you saved on the commute.
==========================================================
This article was written by David Danto and contains solely his own, personal opinions. David has over three decades of experience providing problem solving leadership and innovation in media and unified communications technologies for various firms in the corporate, broadcasting and academic worlds including AT&T, Bloomberg LP, FNN, Morgan Stanley, NYU, Lehman Brothers and JP Morgan Chase. He now works with Dimension Data as their Principal Consultant for the collaboration, multimedia, video and AV disciplines. He is also the IMCCA's Director of Emerging Technology. David can be reached at David.Danto@Dimensiondata.com or DDanto@imcca.org and his full bio and other blogs and articles can be seen at Danto.info. Please reach-out to David if you would like to discuss how he can help your organization solve problems, develop a future-proof collaboration strategy for internal use, or if you would like his help developing solid, user-focused go-to-market strategies for your collaboration product or service.
All images and links provided above as reference under prevailing fair use statutes.