edited on:

‎06-01-2013

‎06:00 AM
Introduction
The ASR9000 supports a variaty of optic (types) including LAN and WAN phy, DWDM and tunable DWDM optics.
These optics all have different environmental specifics and with the support of high powered optics (that is the ones that consume more
then 1W nominal) there are some restrictions when it comes to the ports that they can be inserted on for the 24x10 or 36x10 next generation
high density linecards.
This pertains specifically to the ASR9922 chassis and the ASR9010 chassis when using V1 fan trays (not to confuse with V1 power trays).
Summary
When 24x10 line card was shipped starting XR 4.2.0, all ports were supported with all supported optics.
When 36x10 line card was shipped starting XR 4.2.2, all ports were supported with all supported optics with slot level restrictions (slot 1 and 6, see below for more details)
Subsequent Optical and thermal testing revealed thermal issues with high power 10G optics (ZR and DWDM ONLY).
In XR 4.2.3, slot restrictions were added to address thermal issues for these optics when using v1 Fan Tray pertaining to the ASR9010 chassis
In XR 4.3.0, revised port restrictions were added for these optics when using v1 Fan Tray.
V2 Fan Tray was introduced in February 2013. In order to run this new fan tray you will need either XR 4.3.0 or XR 4.2.3+SMU to address these thermal issues.
With V2 Fan Tray, there are no restrictions for both the 24x10 and 36x10 used in the ASR9010 Chassis.
Optics overview that require this special attention
The following table depicts to which optics the restriction in this article applies to:
| PID | REACH | Power | Release |
| --- | --- | --- | --- |
| SFP-10G-SR | 26m-400m | 1.0W | XR 4.2.0 |
| SFP-10G-SR-X | 26m-400m | 1.0W | XR 4.2.0 |
| SFP-10G-LR | 10km | 1.0W | XR 4.2.0 |
| SFP-10G-LR-X | 10km | 1.0W | XR 4.2.0 |
| SFP-H10GB-ACU7M | 7m | 1.0W | XR 4.2.1 |
| SFP-H10GB-ACU10M | 10m | 1.0W | XR 4.2.1 |
| SFP-10G-ER | 40km | 1.2W | XR 4.2.1 |
| SFP-10G-ZR | 80km | 1.5W | XR 4.2.2 |
| DWDM-SFP10G-XX.XX | 80km | 1.5W | XR 4.2.2 |
| ONS-SC+-10G-C | 80km | 2.0W | XR5.1.1, In 423/434 with smu |
| DWDM-SFP10G-C | 80km | 2.0W | XR5.2.2, smu 434 |
The purple marked optics require the v2 fan tray for additional and proper cooling.
Port restrictions for the 24x10 card (XR 4.2.3 and XR 4.3.0)
For the highpowered (red marked) optics the following port restrictions apply for the 24x10 card: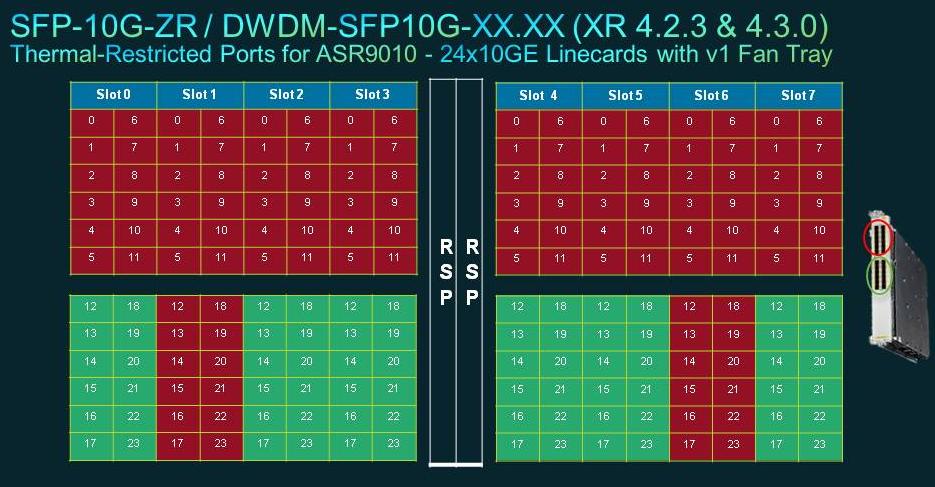 Port restrictions for the 36x10 card
High Powered 10G Optics (ZR and DWDM) were supported in 4.2.3
On 36*10G Linecard environmental testing showed few ports to be restricted. 4.2.3 was shipped with the restrictions outlined below (section XR 4.2.3)
Environmental testing under certain cases, high-powered optics in 36*10G linecard were found to marginally exceed operational specifications.
Stricter port restrictions were imposed on 36*10G linecards. These restrictions are implemented in 4.3.0 and onwards and are outlined below (section XR 4.3.0)
36x10 with V1 fantray in XR 4.3.0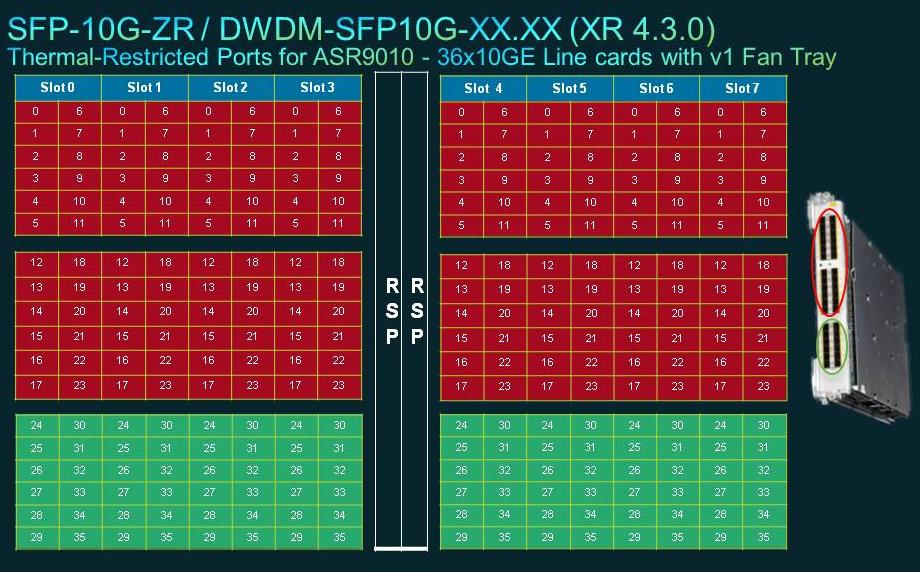 V2 Fan tray
V2 Fan-tray provides better chassis cooling. With V2 Fan-tray there are no port restrictions on high-powered optics on ASR9K with 24-port and 36-port linecards
•V2 Fan-tray is officially supported in 4.3.0 and onwards
•V2 Fan-tray support SMU is available on 4.2.3
Note that the V2 Fan tray is different from the "v2-chassis" (eg ASR9010-AC-V2). The chassis type refers to the power modules capacity of the power
shelves. The v1 power shelf has room for 3 modules, the V2 power shelf has room for 4 (due to a smaller form factor)
Also note that the v2 fan tray can operate with v1 power.
V2 FAN tray means that we have better airflow and cooling
V2 POWER shelf means we have a smaller form factor of the same brick providing room for more power bricks.
V2 fans consume a bit more power then v1 fans, so as long as your power budget is fine, you can run either v1 or v2 power shelves.
Details
V2 Fan Operates at a max 9500RPM with 600W max at 40degC (1000W at 55degC).
V1 Fan operates at a max 5700RPM with 300W at 40degC (680W at 55degC).
Only required for ASR9010 Chassis
V2 Fan tray is supported with ASR9K V1 power shelf and V1 power supply modules.
V2 Fan Tray is officially Supported in 4.3.0 IOS-XR code train and SMU for 4.2.3 to support V2 Fan tray
V2 Fan tray can be replaced in-service on existing V2 Chassis
The V1 Fan Tray can be replaced one by one in real time as a FRU (Field Replacable Unit)
A mix of V1 and V2 fans in the same chassis is not supported in long term operation.
ASR9922 Specifics in relation to high powered optics
In 423, 430, 431, and 432 (tbd! not out at time of writing this update) ZR and DWDM Optics
are not-supported
on ASR9922 chassis
Production
SMU only on 423
is provided to support 10G ZR/DWDM optics on ASR9922 with V1 Fan-tray on 24*10G and 36*10G LCs with port restrictions.
On 423 this will be a reload SMU procedure due to pre-req dependencies.
Alternate solutions for 43 on demand, raise the issue with TAC if you run into this please.
Support ZR/DWDM SFP+ Optics in Megatron with 24*10G and 36*10G linecards
On 24*10G and 36*10G linecards only certain ports (see pictures below) will be allowed to use ZR/DWDM optics in presence of the SMU on ASR 9922 chassis with V1 Fan-tray.
Upon insertion of ZR/DWDM optic into a restricted port, an message will be displayed explaining the restriction
ASR-9922 V1 Fans will run at higher speed to enable ZR/DWDM optics. There are no power budget constraints. Based on the chassis configuration additional power modules may be needed.
When the ambient temperature is 40degC, an alarm will be raised indicating that the system is running at the max temperature allowed and may need to shutdown to protect the optics if the ambient temperature continues to increase. Shutdown 24*10G / 36*10G if ambient temp of RP reaches 45degC in the ASR9922. This shutdown action will be without any checks for type of Optics (based on hotspot)
ASR9922 and 24x10
ASR9922 and 36x10
Q&A
If I am only using high powered optics in some of the ports or slots, what then?
- The red-ports are not allowed with V1 fan-tray on 24 or 36*10G with high powered optics. Regardless of how many are used. These restrictions are software enforced that doesn't evaluate "balancing" in terms of using one port/slot and not another.
Can I use the red ports at all when high powered optics are present?
- Yes, you can plug-in SR/LR optics in the red-ports on the same slot while high-powered optics are plugged into green-ports
Do the restrictions also apply to the ASR9006?
- No. the thermal dynamics from this chassis do not pose the same restrictions as the ASR9010 or ASR9922.
Do the restrictions also apply to the ASR9001?
- No. The ASR9001 doesn't carry the 24x10 or the 36x10 linecards. The MPA's do not require additional cooling when higher powered optics are in use at this point.
Do I have the issue discussed in this document?
- Check the following outputs from show controllers tenGigE 0/X/0/Y internal
......
Link Faults : (0x00100100) RFI OPTICS_PORT_UNSUP
Raw Link Faults : (0x00100100) RFI OPTICS_PORT_UNSUP
Link Up : no
Link Led Status : Link down -- Red
Serdes hw version : 0.3
Serdes sw version : 0.0
Pluggable Present : yes
Pluggable Type : DWDM-SFP10G-42.14
Pluggable PID : DWDM-SFP10G-42.14
Pluggable Compl. : Compliant
Pluggable Type Supp.: Supported
Pluggable PID Supp. : Supported
Syslog messages similar to this may be shown:
LC/0/X/CPU0:Jun 10 15:19:32.194 UTC: pfm_node_lc[291]: %PLATFORM-SFP-2-DEV_SFP_OPTICS_PORT_UNSUP : Set|vic[295044]|SFP(0x1029000)|SFP Module for port 00 is not supported
Or check show pfm location 0/X/CPU0
Related Information
More information about 3rd party optics:
https://supportforums.cisco.com/blogs/asr9k/2013/03/18/asr9000-policy-3rd-party-optics
Xander Thuijs CCIE#6775
Principal Engineer, ASR9000