Highlighted
Beginner
Mark as New

Bookmark

Subscribe

Mute

Email to a Friend
Cisco RV 120W (f/w: 1.0.2.6) VLAN Membership Table (tagged / untagged)
I just finished reading the only other discussion I could find on this issue here: https://supportforums.cisco.com/message/3414388#3414388 and the suggested document suggested in that discussion http://www.tech-faq.com/vlan.html .I'm still confused, but maybe someone can help me figure this out:
I have 3 VLANs:
1 (Default)
2 (ADMIN)
100 (SCHOOL)
My VLAN Membership table on my RV 120W looks like this:
| VLAN ID | Description | Inter VLAN Routing | Device Mgmt | Port 1 | Port 2 | Port 3 | Port 4 |
| --- | --- | --- | --- | --- | --- | --- | --- |
| 1 | Default | Disabled | Enabled | Untagged | Untagged | Untagged | Untagged |
| 100 | Admin | Disabled | Enabled | Tagged | Tagged | Tagged | Tagged |
| 2 | School | Disabled | Disabled | Tagged | Tagged | Tagged | Tagged |
Port 3 of the RV 120W is plugged into a WAP4410N (Bridge1) that has the same 3 VLANs defined which acts as a bridge to another WAP4410N (Bridge 2). Bridge 2 is connected to a Cisco SF 300 24port Poe Switch. My plan was to setup Bridge 2 as a tagged trunk to the SF 300 switch and Bridge 1 as a tagged trunk to port3 on the RV120W. The goal is to use the wireless connection to trunk the RV120W router in the admin building with the SF 300-24p switches in the school building to provide routing and share Internet while not allowing the students to access the admin network. I am trying to accomplish the following:
- both VLANS to have Internet access
- no communications between the school and admin VLANS
- access point isolation on the school VLAN
I haven't got this working yet, but I did speak to Cisco's small business pre-sales dept and confirmed that I can do this before purchasing the equipment. Since I can't define a trunk, I would think that the proper setup would be to have all the VLANS on port 3 tagged, but the system won't let me. Since it won't let me, I figure there is something wrong with what I am trying to do. The error message is Configure at least one VLAN association in Untagged mode for port 3. Also,a dumb switch is plugged into port 2 that drives a couple of admin printers, workstations, etc. I figure that port 2 should be untagged for VLAN 100. This seems to work in that it will allow me to do it. However, I am not going to plug any of this equipment into the live system until I figure out the proper settings for trunking the two WAP4410Ns. I guess my questions are:
1) How should port 3 be configured on the RV 120W to allow a proper trunk connection between the WAP4410N, bridge 1, to the WAP4410N, bridge 2?
2) How should the port 2 be configured on the RV 120W for the dumb switch that should be VLAN 100 only?
3) Why must you have a single untagged VLAN for each port, no more, no less?
4) Do you see anything horribly wrong with my proposed proposed course of action?
My general concept is something like this: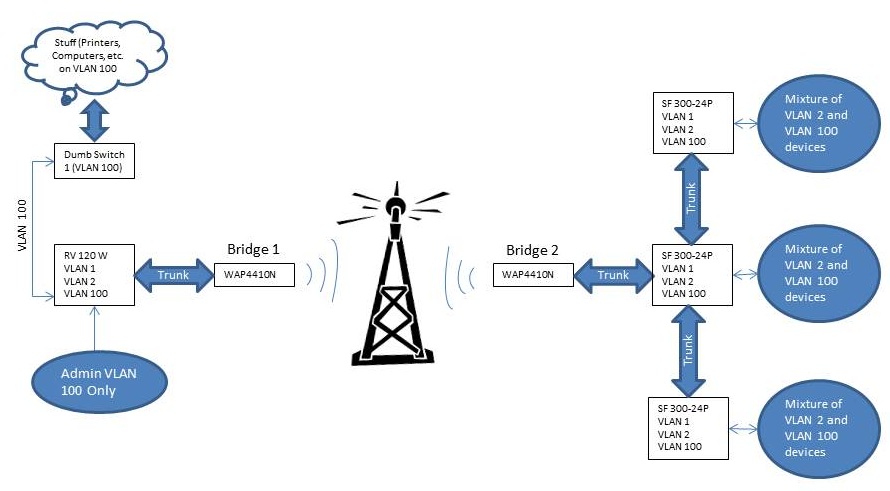 Thanks in advance for any advice and suggestions.
Jeff