Beginner
Mark as New

Bookmark

Subscribe

Mute

Email to a Friend
Drop 'N Go subnet within pre-existing network - Help with routing please
Hello All,
I would consider myself entry level at best when it comes to the Cisco ASA 5505, and I appreciate any help or direction that anyone would be able to provide regarding this issue I am having. I am sure there is something out there for this but I have not yet been able to figure this out with what I have found.
So we currently have our infrastructure setup like this: modem(69.14.72.6/255.255.255.248)->ASA(192.168.1.1)->Switch->Hosts and Servers(192.168.0.X\24).
What I am trying to do is drop in a small router somewhere within this network with its own subnet and be able to communicate back and forth to it from the 192.168.0.X network, so it will look something like this: modem->ASA->Switch->Hosts and Servers(192.168.0.X\24) && Hosts and Servers(192.168.1.X\24).
I would like to allow this traffic flow hopefully while only having 2 interfaces configured on the ASA (Outside 0/0, and Inside 0/1-0/5) and without modifying the configuration on the Switch. A few key phrases that come to mind from my search thus far are "Hair Pinning" and "same-security-traffic permit intra-interface". Also I am aware of port-forwarding, and as I understand it this would not be practical as I would have to configure a rule for every device connected to the 192.168.1.X\24 network.
I hope someone will be able to help me with this issue, I have been at this for 3 weeks now.
Thanks again everyone!
EDIT: Here are is a diagram to help explain what I am trying to do. The area shown in red is what I am trying to add to the rest of which I already have.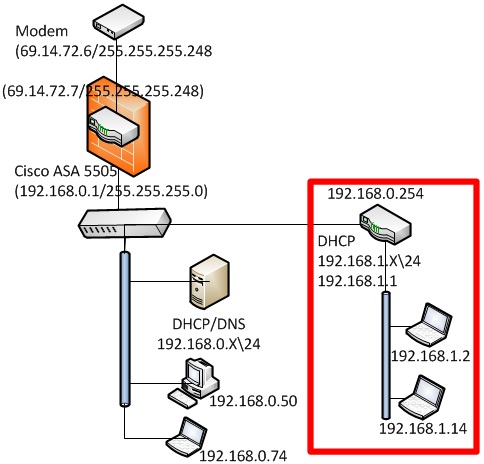 1 ACCEPTED SOLUTION

Beginner
Mark as New

Bookmark

Subscribe

Mute

Email to a Friend
Hi James,
To route between 2 networks you'll need to either use a Layer 3 switch or a "Router on a stick"
Installing a layer 3 switch would cause the least interruption to your existing network.
You would then have ASA 'inside' interface -->Layer3 Distribution Switch-->2 or more Access Switches