Beginner
Mark as New

Bookmark

Subscribe

Mute

Email to a Friend
ISP WISP Point to Point network Project
Currently in place ISP WISP Point to Point network would like some pointers to exceed in doing it right.
Anyone would like to help. Here are some issues.
ISP Fiber 50 Megs down and 50 Megs up ( Working )
What Router do I use? Looking at Cisco RVS4000 at JDT Site as main router
I have routers at others towers using the 10.1.19.xxx address as wans setup.
Do I pull out all routers and use only one from the JDT Site?
a. Due to Port forwarding
b. Lets say main Wan is 74.144.55.159 Lan 10.1.19.1
1. Site BTT router is assign address 10.1.19.33 Lan 192.168.6.1
a. Can I setup 74.144.55.159:85 to see 10.1.19.33?
My Point ot Point radio use different IP address to separate from lan address (10.1.19.xxx) Radios (10.1.119.xxx)
1. Everything is working just want to re-design everything never thought I would grow this fast with in 2 years.
Hope I explain this well enought. 90% of users are out in the country without high speed internet.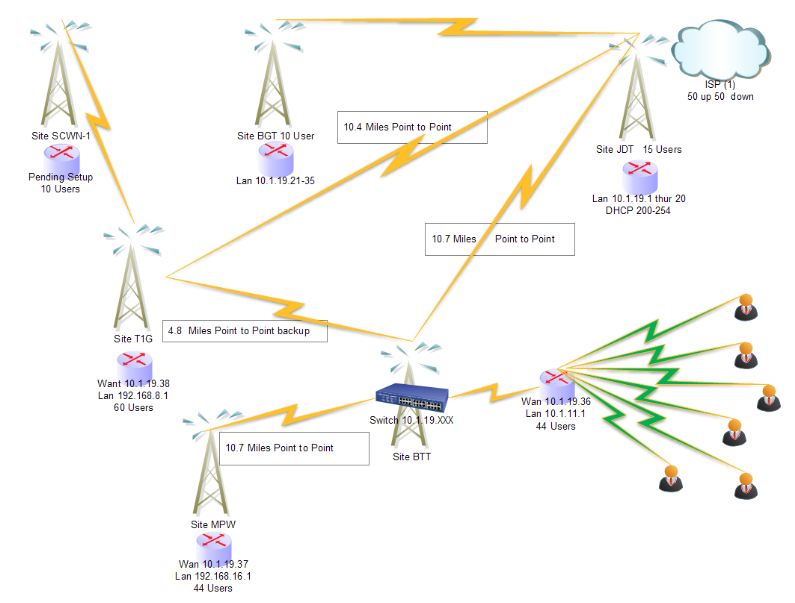 Advocate
Mark as New

Bookmark

Subscribe

Mute

Email to a Friend
Hi Jimmy, I'd recommend you take a look in to the RV180 or RV220 routers. The WRVS/RVS routers are pretty much out the door.
Another consideration you may look in to, depending on needs, you can use layer 3 switches such as a SG300 or SG500 and make a couple VLAN's. The switches don't support NAT or DHCP services. If you're looking for inter-site connects and you don't need internet access or DHCP service from a device, a L3 switch may be a better option.
-Tom
Please mark answered for helpful posts
-Tom Please mark answered for helpful posts http://blogs.cisco.com/smallbusiness/