Beginner
Mark as New

Bookmark

Subscribe

Mute

Email to a Friend
RV110W warnings on RDP, RDP fails
Hi all,
I have an RV110W running firmware 1.1.0.9 that is working fine with VPN clients. However, one client cannot use VPN and I'm trying to set up some simple port-forwarding to allow RDP to a specific machine inside our network (IP address 10.143.193.2).
The tl;dr questions are:
1) Where can I find explanations of what a warning means in the logs on an RV110W?
2) Why isn't traffic from my server making it back out from our network to the originating RDP client when it seems I have configured everything to allow this to work?
The details:
I have a firewall rule that says this. (Note, I've tried restricting the services to just RDP but expanded to all traffic as part of my testing.):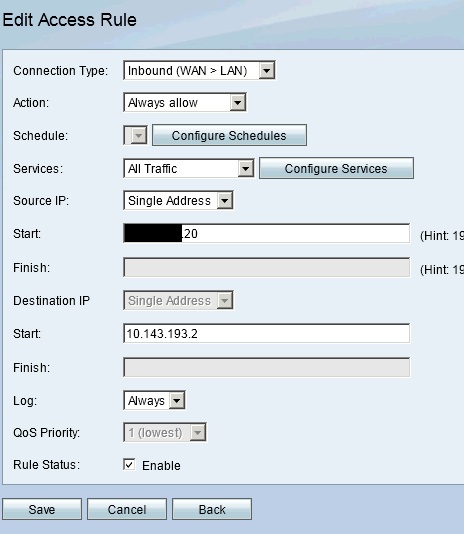 And a port forwarding rule that says:
But I keep getting these errors when testing the RDP from *anywhere* at all. Searching these forums and the internet at large for the reason these are warnings and what to do has been fruitless. However, these will show up for any attempt I make to connect. Also, there were rules for each of these IP addresses that show up as warnings to allow access to the 10.x.x.2 destination. It seems that the problem is traffic isn't making it back...and I'm stumped now.
On my home network, I went so far as to disable all firewalls and still no joy...just these same warnings.
Any idea why my RDP connection is failing?