Highlighted
Beginner
Mark as New

Bookmark

Subscribe

Mute

Email to a Friend
RV220W - cannot get the router to use full bandwidth (was "RV220W slower after bandwidth upgrade")
Hi,
I've got a RV220W with firmware 1.0.4.17 connected to a Cisco EPC3000 modem from my cable provider.
Previously I had a 60 Mbps connection to the Internet and I could achieve 57 to 59 Mbps throughput on my PC connected to the RV220W via a fast-ethernet cable (100 Mbps). To achieve that troughput I had to change the MTU size to 1492 and set the WAN port to 1000 Mbps Full, no Auto Negotiation.
I've upgraded the Internet connection to 100 Mbps and, to my surprise, the throughput got worst, around 45 Mbps: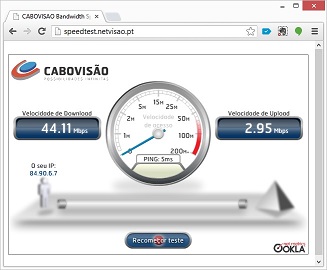 If I connect the PC directly to the modem I get a throughput of around 95 Mbps:
After noticing this problem I have:
1- Downloaded a "fresh" 1.0.4.17 firmware image from http://software.cisco.com;
2- Install the new image forcing a soft reset to factory settings;
3- Disconnect all the network cables, leaving only the power cable, and press the reset button on the back for more than 10 seconds, forcing a hard reset to factory settings;
4- Configured manually the RV220W, with a simpler configuration, without firewall rules.
But the speed problem is still there.
Any sugestions?
Regards,
Paulo