Beginner
Mark as New

Bookmark

Subscribe

Mute

Email to a Friend
SA540 Dropping Good Packets Due to Lack of Resources
One of my clients has an SA540, which seems to be working okay, but while inspecting it today, I saw the below statistics. The RX Drop Pkts count concerns me. The statistic "shows the no of good packets received by a port that were dropped due to a lack of resources (e.g., lack of input buffers)" (text copied from the SA540 help screen).
Does this mean the appliance is being maxed out and is not up to the job? There are only 11 computers in the main office where the router is located, and there is an IPsec VPN to another office where only one worker accesses the main network through the VPN for RDP sessions on a server.
This is kind of scary if the SA540 is maxed out. I have another SA540 going to a client in a couple of weeks that is doing VOIP and data with 15 users and 4 branch VPN's. The specs would seem to indicate this appliance could handle that load, but now I'm not too sure. I would appreciate hearing from anyone (particularly from Cisco) with insight into this issue
Firmware Version: 2.1.18
After my initial post, I checked another client's SA540 and they are having the same issue with dropped packets. This client has about 30 computers on their network.
Firmware Version: 2.1.45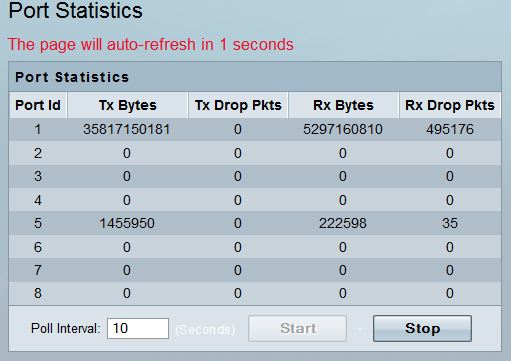 Tony Lombardi
Message was edited by: Tony Lombardi to add second image of port statistics.