Cisco Employee
Mark as New

Mark as Read

Bookmark

Subscribe

Email to a Friend
Hey Everybody, Corey here with another issue of our newsletter. Where you can keep up with the latest from our community and support teams.

We're hard at work making documentation for Cisco Business Switches and the Cisco Business Dashboard. We'll have more details and articles to share next month. For this issue we're covering a variety of topics and including as well as launching a new ongoing feature as well.

Important Date:

7/28 -

Customer Connection Briefing: Cisco Business Switches and Cisco Business Dashboard

Tuesday, July 28 at 1pm PT (Time zone for US members)
Tuesday, July 28 at 4pm AEST (Time zone for Australia, India, Central Europe and UK members)



Off the routed path
This deployment diary will cover the deployment and the ongoing development of a Cisco Business network. While also covering the IT related use cases required to help push the family vineyard's business forward. The goal of this running feature is to highlight features that help our users understand the potential of their network. I'll be describing the thought process behind the network.

Background: For the past two years I've lived on a small family vineyard in Napa county California. Our rural environment is perfect for growing grapes but during mid-day let's just say the sun is 'spicy'. We grow Malbec, Cabernet Sauvignon and Cabernet grapes. In this diary we will establish a base level network and layer on services. The added services might be additional hardware or IT related projects.

Required features:
1. Mesh wireless coverage
2. Multi-building LAN deployment
3. Guest network access w/ captive portal
4. Secure remote access
5. QOS
6. Containerized services

Topology: The structure containing the RV320 is a physically separate domicile. Network stability for guests is paramount as our guests work remotely. This includes ensuring video conferencing traffic is prioritized. Our Cisco Business Wireless has levers for managing priority of applications down to the service. With over 1,300 options to choose, we have a custom tuned network.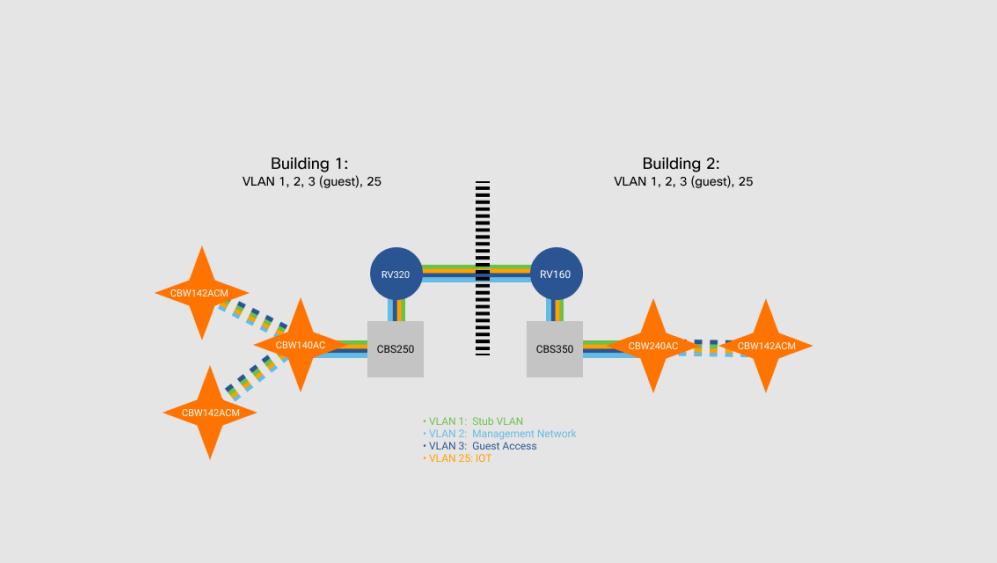 Current Status: Base level. I've stood the network up and its functional, but lacks features. The difficult part wasn't even trenching to lay cat-6 cable the 200 feet between buildings. Did I mention it's hot out here? Fun fact, which is part of why many vineyards harvest grapes at night under stadium-style lighting.

In terms of the network the VLANs are assigned and the corresponding DHCP servers are delivering IP addresses as expected. Save for virtual machine network access, everything is awesome! Additional items, I have enabled IGMP multicast snooping to help my IOT devices communicate. My CBS350 switch has a ton of POE ports so I'm looking for applications, shout 'em out if you have 'em.

The latest addition to the network was the Cisco Business Wireless devices, 3 of which I bought myself from Amazon (Link to Product Page). I love the plug and go form factor of the 142ACM Mesh Extender. My challenge being rural is limited broadband options. For example, currently I pay $144 a month for 24 Mbps, ouch, I know. 😓 So part of my challenge in furnishing WiFi for guests is ensuring that the bandwidth we do have is managed well. Future posts will detail how I am managing those solutions.

Do you use virtual machines for your lab or production environments? What are are your preferred services to use containers for? Let us know!

You must be a registered user to add a comment. If you've already registered, sign in. Otherwise, register and sign in.