Options
Mark as New

Mark as Read

Bookmark

Subscribe
on ‎05-18-2012 03:24 PM
Before you start, make sure CUE is up with "CUE Diagnostics" and Voicemail is fully operational. Note that the Jabber Client does require a license that needs to be purchased.
Required Software: CCA 3.2.1, Software Pack 8.6.0. Cisco Jabber for iPhone 8.6.4 or higher.
Note: Jabber Supper is limited in this Maintenance Release and functionality is basic.
Limitations and Restrictions on Jabber with UC500:
• iPhone must be bound to Voice VLAN ( Heavy data usage on iPhone through Wifi may have side effects on Voice Quality).
• No Multisite support.
• Limited features supported on SIP Phones.
• No Shared Line support.
• No TSW support.
• Voice Quality not guaranteed.
• Our apologies, VPN support has been retracted due to side effects on SIP endpoints /trunks and CUE.
Known Caveats:
1. DTMF tones orginating from Jabber for iPhone are not recognized by Cisco Unity Express and some SIP service provides. To fix this issue, log
in to the UC500 using SSH/Telnet and enter the command:
dtmf-relay rtp-nte sip-kpml
under the voice register pool for Cisco Jabber. (CSCts87199).
2. If an outbound proxy is configured under a SIP trunk, it may cause incoming calls (internal and external) to Cisco Jabber to fail. To fix this
issue, log in to the UC500 using SSH/Telnet and enter the command:
no outbound-proxy
under the voice register global command.
Configuration:
1. Find the MAC address of your iPhone. On iPhone go to Settings -> General and Note the value.
2. Go to Telephone -> Users and Extensions -> Users and phones and create Cisco Mobile –IOS with the Mac Address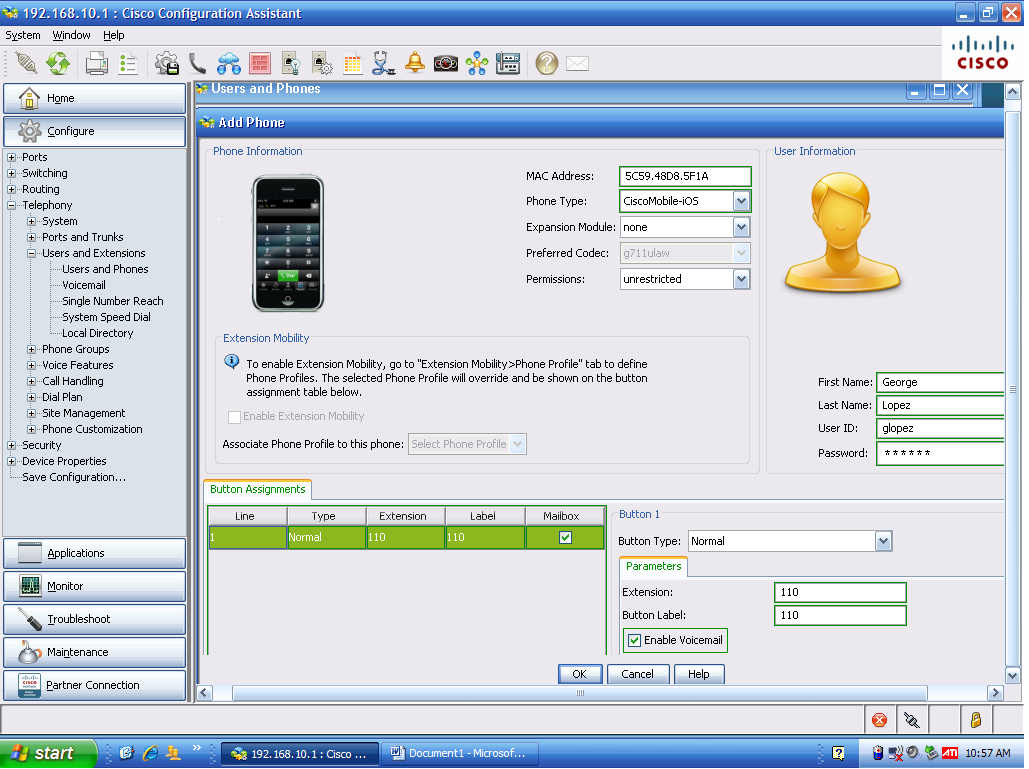 Hit OK.
3. Connect iPhone Wifi to Voice Vlan on the UC500. On your iPhone Go to App store and download and install Cisco Jabber for iPhone. Open app and follow instructions.
4. Accept Notice and then Enter Account Settings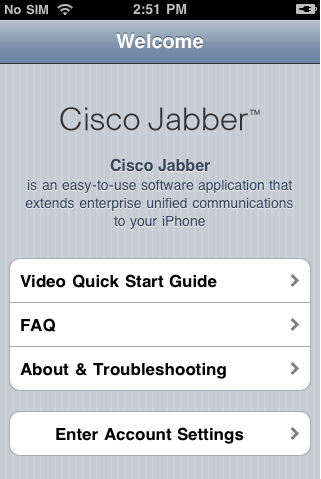 5. Then Enter Begin and then Enter Communication Manager settings as follows
Device ID: sep<Mac address>
TFTP Server: Voice VLAN IP address on UC500
Turn on User Authentication and enter the Username and Password that was created in Step 2
And then hit Save
6. Enter No for Desk Phone integration. This feature is not supported with this platform
7. For Voicemail, Enter the same Username and Password again and along with CUE IP address. Default IP address in 10.1.10.1. Do not edit port.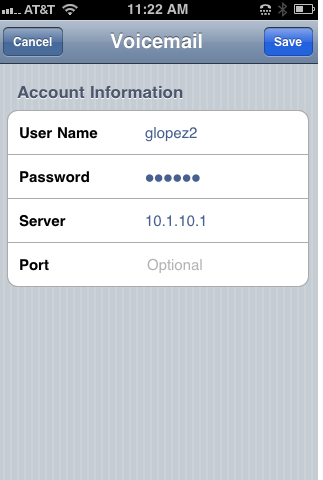 8. Enter no for Corporate Directory Setup. This is not supported.
9. You are now logged in and ready to use Cisco Mobile.
A registered Phone should look like this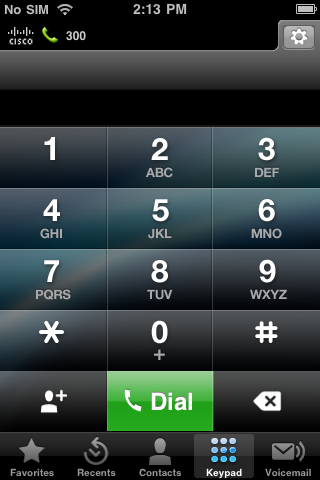 Visual Voicemail: