Options
Mark as New

Mark as Read

Bookmark

Subscribe
on ‎10-14-2011 04:09 PM
Update (10/31/2011): The ntop Packet Monitoring application is now available to both cisco-onplus.com and onplusbeta.com.
ntop is a network traffic probe that shows network usage. For more information, visit
For instructions on how to add and use the ntop Packet Monitoring application, see the online documentation topic "Enabling ntop Packet Monitoring" on the portal or download the application note here:
Enabling ntop Packet Monitoring with Cisco OnPlus Service. Corrected PDF Issue 10/26/2011
Two methods are supported for collecting network information to use with ntop:
NetFlow (IPFIX). Most Cisco IOS routers support the NetFlow protocol. In that case, you can simply enable the protocol in the router and point it at the OnPlus Network Agent. The NetFlow protocol uses less CPU resources on the OnPlus Network Agent and does not require you to use the MON port.

When using NetFlow, we recommend that you assign a static IP address or static DHCP lease to the OnPlus Network Agent, since the NetFlow configuration uses the IP address of the OnPlus Network Agent. Also, NetFlow must be activated in ntop, and the port number that it listens on must match the NetFlow configuration on the IOS router.
Span. Using the OnPlus Network Agent MON port for input, you can use ntop to sniff the traffic you are interested in. When the span traffic is monitored, you must provide the source for the network traffic to be examined.



NOTE for PLG1000 Appliances: If you want to use the span method, and you have a PLG1000 appliance, you must use an Ethernet USB adapter (plugged into the USB port on the PLG1000) to connect the second Ethernet network interface to the SPAN (mirror) port. Only the Cisco Linksys USB300M (10 /100) Ethernet adapter has been tested for compatibility with the PLG1000 appliance and software.


This applies only to the span method. The NetFlow (IPFIX) method works exactly the same on the PLG1000 as it does on the ON100 Network Agent.
To get started, select a customer, choose Apps, then click FREE.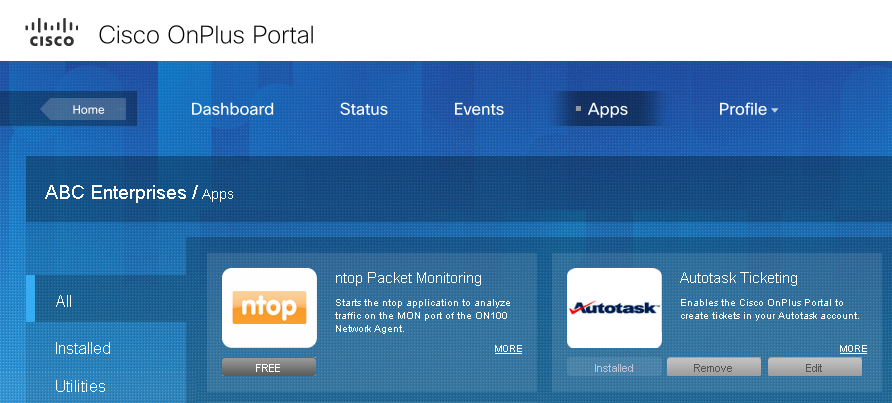 When you add and install the app for a customer, the ntop application is downloaded to their OnPlus Network Agent and can be accessed from the portal. You do not need to download the ntop application software.